Plain wallpaper brings a dynamic range of colors into your living space! The wide selection of hues, along with various visual textures and material combinations, has the potential to create a significant impact. Let us explore some of the most popular colors for plain wallpaper, how to choose a matching plain wallpaper to complement patterned wallpaper and common questions and answers below.
What are the most popular colours for plain wallpaper?
Plain wallpaper models extend across a remarkable spectrum of shades. Within this collection of sought-after colors, a plethora of possibilities for imaginative combinations abound, including popular options like white, grey, blue, green, and sand.
White Wallpaper
White-colored wallpapers are popular due to their versatility as a neutral base that complements diverse color schemes and design styles, creating a clean and timeless aesthetic while amplifying natural light and accentuating other decor elements. 
Graphic Hills Wallpaper in White
The Graphic Hills Wallpaper is a stunning wallpaper that adds a touch of contemporary art to any room. Featuring abstract wavy lines in soft grey hues, this wallpaper creates a dynamic and unique look that is sure to impress your guests. Use it to create a statement feature wall or pair it with your favourite decor and furnishings to add a touch of creativity to your space. The soft grey colorway makes it easy to integrate into any existing decor scheme, while the abstract pattern adds a modern and whimsical touch.
Featured: Graphic Hills Wallpaper in White
Brush Wallpaper in Off White
Elevate your home decor with the stunning Brush Wallpaper. Featuring bold, confident brushstrokes that mimic the texture of chalk paint on a greige background, this wallpaper creates an eye-catching and sophisticated backdrop for any room. The abstract, modern design of this wallpaper is perfect for those who want to make a statement and express their creativity. The combination of off white, grey and beige creates a soothing and calming effect that will help you unwind after a long day. With high-quality printing and durable, non-woven material, the Brush Wallpaper is built to last and will bring a touch of contemporary elegance to your home for years to come. Whether you're looking to add a touch of artistic flair to your living room, bedroom, or home office, the Brush Wallpaper is sure to impress.
Featured: Brush Wallpaper in Light Grey
Grey Wallpaper
Grey wallpapers have gained popularity for several compelling reasons. Their neutral yet sophisticated demeanor makes them a versatile choice that effortlessly adapts to diverse design palettes and styles. Grey's subtle elegance adds depth and character to a space while maintaining a serene and calming ambiance. Grey wallpapers can evoke both modern and timeless aesthetics, making them suitable for contemporary and traditional settings alike.
Herman Patterned Wallpaper in Grey
Looking for a classic plaid pattern to add some charm to your kitchen? Look no further than the Herman Grey Wallpaper! With its timeless design and soothing shades of grey and white, it brings a sense of calm and harmony to any space. Whether your style is modern or rustic, this wallpaper is the perfect complement.

Featured: Herman Patterned Wallpaper in Grey
Swiss Cottage Stripes Wallpaper in Light Grey
Add an industrial flair to your home with the Swiss Cottage Stripes Wallpaper in Light Grey. The stripes create a pop of dimension that complements any modern or industrial space, making it the perfect addition to your décor. Additionally, this wallpaper is available in Dark Grey and Crimson, giving you even more options to choose from.
Featured: Swiss Cottage Stripes Wallpaper in Light Grey
Agnes Patterned Wallpaper
Agnes white is a soft, plain, graphic surface that creates character and calmness. Agnes creates a beautiful discreet impression in the room. Use this wallpaper design in any living room, dining room, kitchen, bedroom or office.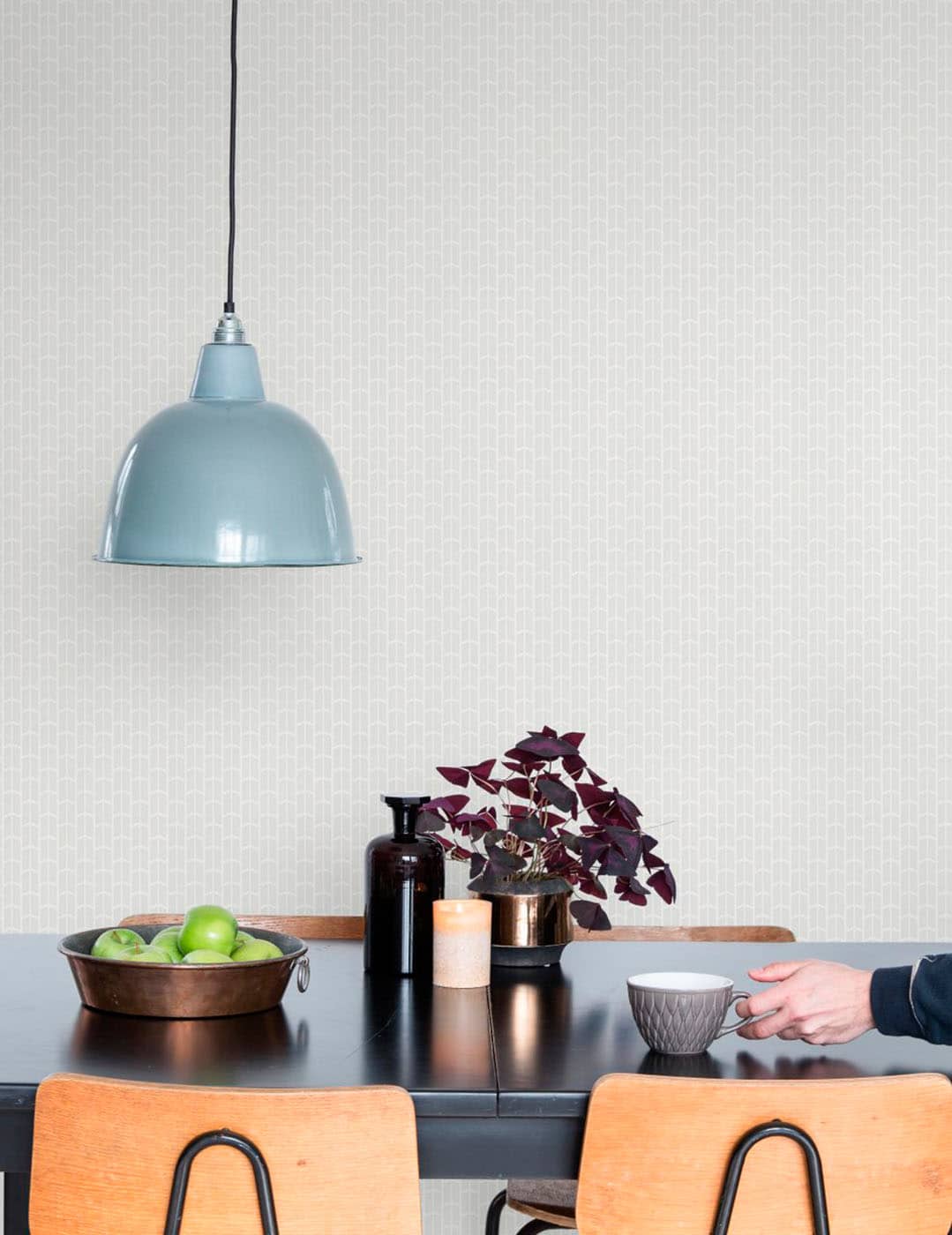 Pictured: Agnes Patterned Wallpaper
Check out our other selection of grey wallpaper here
Sage Wallpaper
Sage wallpapers are popular due to their refreshing and nature-inspired appeal. Green wallpapers bring the outdoors inside, creating a sense of tranquility and rejuvenation. 
Speckle, Wallpaper
Add a playful feel to your space with this stylish green speckle Wallpaper, a versatile mural that will add a fresh touch to your interior style. Whether you are looking to introduce a fun aspect to your child's nursery or bedroom, or even your living room or bedroom this spotty wallpaper can be styled to suit your design aspirations.
Pictured: Speckle, Wallpaper
Lisabet, Patterned Wallpaper
Small patterned Lisabet is a simplistic and timeless design create a beautiful, vivid space. This wallpaper design is subtle and elegant, suitable for a variety of rooms like your bedrooms, kitchens, dining areas, bathrooms and more.
Pictured: Lisabet, Patterned Wallpaper
Rippling Leaves, Wallpaper
Bring a touch of whimsy to any space with our  foliage wallpaper. We reckon it looks good in your living rooms, bedrooms or even the children's nurserys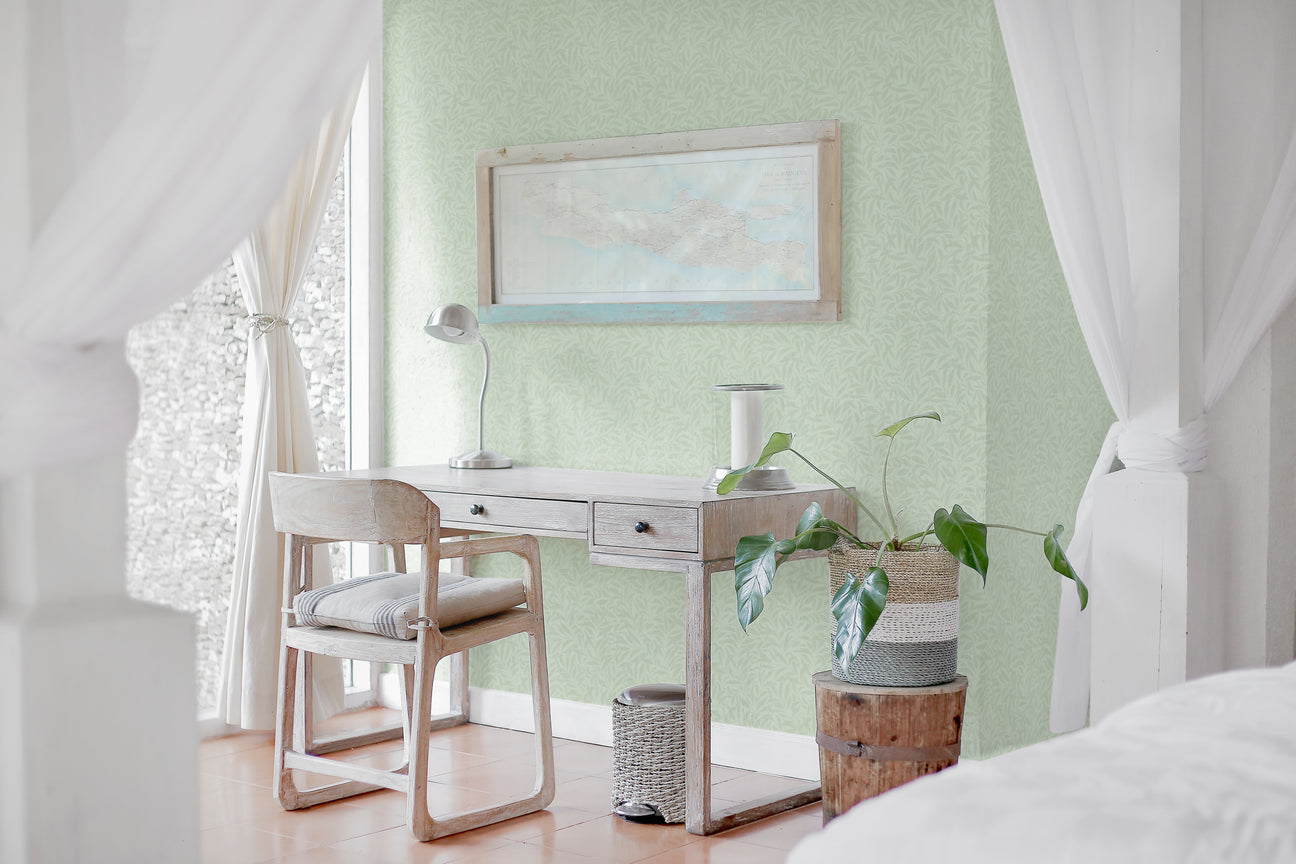 Pictured: Rippling Leaves, Wallpaper
Check out our other selection of green wallpaper 
Blue Wallpaper
Evoking tranquility and balance reminiscent of open skies and oceans, blue wallpaper creates peaceful havens within interiors. The adaptability of blue spans design styles, harmonizing effortlessly with various aesthetics like coastal, Scandinavian, classic, and contemporary, while also promoting mental clarity and creativity. Soft blues bring airiness to spaces, deep blues add sophistication, and all shades of blue foster a connection to nature.
Sashi Geometric Japanese, Wallpaper
Sashi is a geometric wallpaper with a small pattern inspired by the Japanese sashiko embroidery technique. This craft form was initially used to patch and repair worn work clothes.
Pictured: Sashi Geometric Japanese, Wallpaper
Hagalund Pattern, Wallpaper
Hagalund is a blue graphic surface pattern taken from a book cover, and softened by the movement of the hand. A pattern with a modern look.  This pattern is a seamless grid design that will repeat around as many walls as you want it to.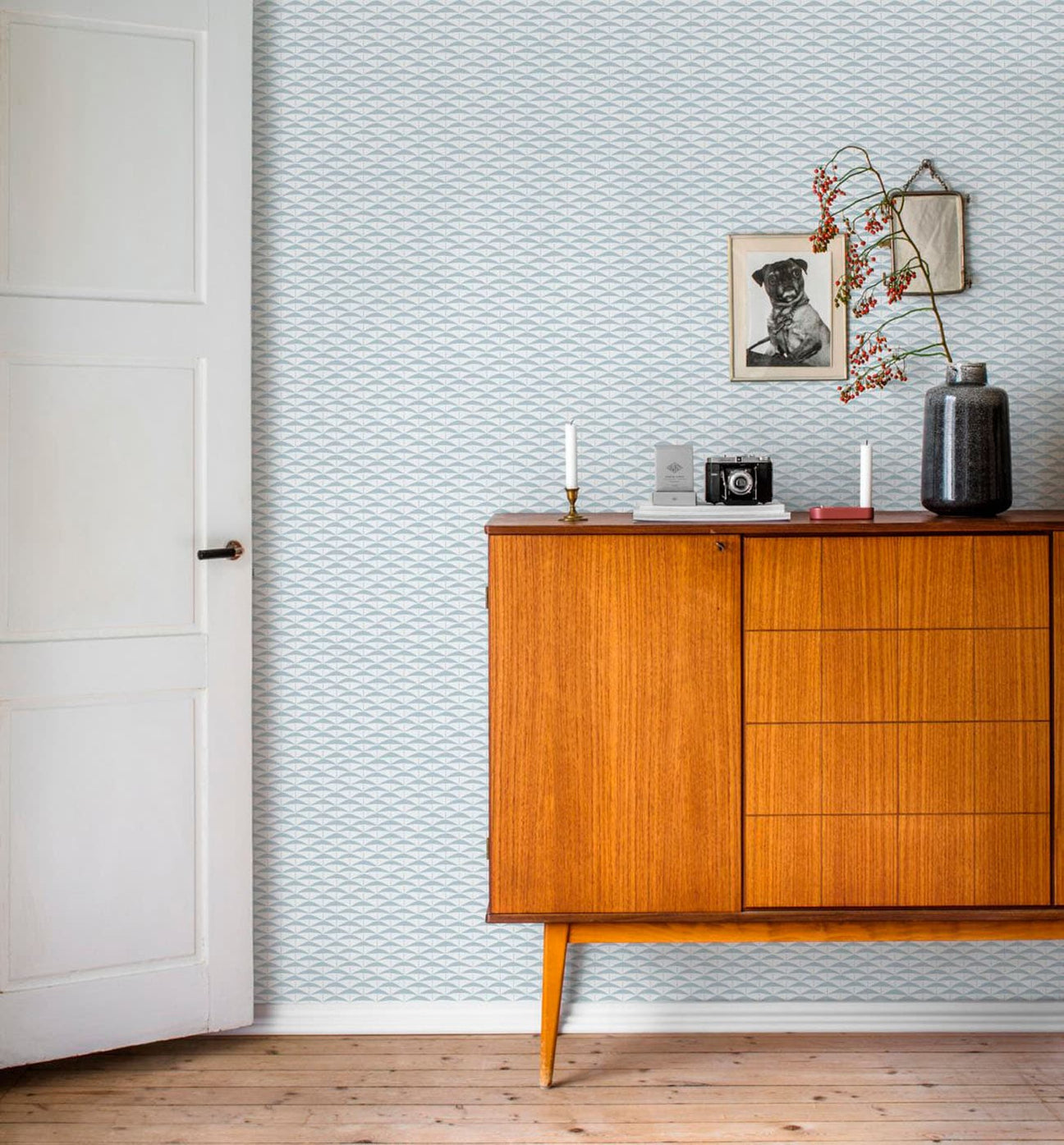 Pictured: Hagalund Pattern, Wallpaper
Check out our other blue wallpaper here.
Sand Wallpaper
Sand-colored wallpapers are celebrated for their warmth and versatility, ranging from pale creams to earthy tones that evoke cozy beachscapes and tranquil landscapes. They create inviting and harmonious spaces, seamlessly blending with various color palettes and allowing for layering of textures and patterns.
Bianca, Floral Wallpaper
Bianca is a wallpaper showcasing dainty little flowers against a toned-down, neutral background. Ideal for those who likes to bring simple detail to the wall and create a calming and relaxed space.
Pictured: Bianca, Floral Wallpaper
Arch Passage, Wallpaper
The Arch Decor wallpaper is an art-deco inspired design. Style it with modern, sleek furniture.
Pictured: Arch Passage, Wallpaper
Check out our sand wallpapers here
How do I choose a matching plain wallpaper to complement patterned wallpaper?
The plain wallpaper variant should capture a recurrent color from the pattern to establish a cohesive and balanced visual arrangement. Alternatively, you can consider painting the remaining walls in one of the pattern's shades. 
When selecting the perfect shade for the plain wallpaper, especially in wall murals, it's essential to identify a specific color from the pattern. This choice not only fosters a harmonious ensemble but can also influence the room's layout and lighting conditions in a favorable manner.
Pictured: Lush Kingdom, Wallpaper
 Pictured: Hand drawn Duo Stripes (HelloCircus x HouseofChais), Wallpaper
Why choose plain wallpaper over paint?
Bumps, cracks, or uneven surfaces, wallpaper acts as a protective layer that conceals these irregularities. The textured and patterned nature of wallpaper distracts the eye from minor flaws, creating a visually consistent appearance across the entire wall. This attribute is especially beneficial for older or unevenly surfaced walls, as well as in spaces where achieving a smooth finish with paint alone might be challenging. 
Modern wallpapers are designed with ease of maintenance in mind, offering durability and the ability to withstand wear and tear. Their advanced manufacturing processes make them resilient to wear and tear, resisting scratches and impacts. These wallpapers are treated to withstand moisture, fading, and staining, allowing for effortless cleaning and upkeep. Hello Circus wallpaper are available in our staple non woven material and heavy duty textured vinyl that is hard wearing and durable. For more information about our wallpaper materials, read here

Wallpaper offers a diverse range of textures, patterns, and designs that paint cannot replicate, enabling you to achieve unique and intricate looks.
Pictured: Big Diamond Marble, Geometric Wallpaper
In conclusion, plain wallpaper stands as a versatile and impactful choice for transforming your living spaces. With its wide array of colors, diverse textures, and material compositions, it holds the power to bring vibrancy and elegance to any room. Whether you're aiming for a serene ambiance or a bold statement, plain wallpaper can effortlessly adapt to your vision. Its ability to serve as a backdrop for creative interior design makes it an invaluable tool for expressing your personal style and enhancing the atmosphere of your home. 
Why choose Hello Circus' wallpapers?
We understand your wall comes in different shapes and sizes. Each wallpaper is therefore customised to the dimensions of your wall, making each wallpaper unique to your home. We also sell by per meter square (Height x Width x Unit Price) and not by rolls so that you only pay for what you need for your wall.
Check out our guide on how to measure your wall for wallpaper!
Benefits of our wallpapers
High Quality:

 Our wallpapers are printed on high quality non-woven paper in factories with the highest standards from 

Europe

. They are reinforced with nylon fibres to make the wallpaper stable and resilient.

Matte and non-reflective:

 Our non woven wallpapers are coated with soft and non-reflective matte finishing.

Safe and non-toxic:

 Our products are printed using stain resistant, VOC-free (Volatile Organic Compounds) inks on breathable, PVC (Polymerizing Vinyl Chloride) free paper. This ensures that your family and more importantly, your kids are not exposed to toxic chemicals which are usually present in traditional paint and wallpapers, all of which may have harmful health effects. 

Antimicrobial Protection
Wallpaper washability:

 All our wallpapers are washable, meaning that their surface is resistant to damage, and any domestic dirt or water stains can be wiped with a damp cloth or sponge.

Resistant to colour fading:

 Our production technology is designed to ensure optimum resistance to colour fading.

Fire resilient:

 Our wallpapers are fire rated in accordance with EN ISO 11925-2.
Read more about our wallpaper materials and check out our Ultimate Guide to Wallpapers for answers to the most commonly asked questions about wallpapers.
Interested to get our wallpaper?
For wallpaper quotation: Please click on "Get Quote/Buy" of the product page that you like and submit enquiry with wall dimensions. Check out our bestsellers wallpaper collection to get inspired! Installation is available as an add-on service for selected countries.
Feel free to contact us if you have are interested in the following:
Bulk orders

Corporate orders

Selling with us

Collaborations

Press features