Over the years, wallpaper has evolved from a traditional wall-covering to a powerful design element that can completely transform the look and feel of your home. With an endless array of patterns, textures, and colors available, the creative potential of wallpaper knows no bounds. In this blog, we'll explore various imaginative and creative ideas to use wallpaper in your home, allowing you to infuse each room with personality, charm, and a touch of uniqueness. Here's some creative wallpaper ideas for your living space.
Creative Idea #1: Create an Accent Wall
Create a focal point in any room by designing an accent wall with striking wallpaper. Opt for bold, eye-catching patterns or textured designs that contrast with the rest of the walls. The accent wall can act as a backdrop for your favorite furniture or artwork, instantly elevating the room's visual appeal.
Creative Idea #2: Ceiling Statements
Don't neglect the fifth wall – the ceiling – as it offers a surprising canvas for creativity. Choose a wallpaper with a captivating design or a serene sky-like pattern to bring a sense of wonder and height to your living spaces. A creatively adorned ceiling adds depth and interest to the entire room.
Creative Idea #3: Frame It Up
Transform a plain wall into an art gallery by framing wallpaper sections as if they were masterpieces. Select complementary frames and arrange them in a visually appealing layout to create an innovative and cost-effective art display.
Creative Idea #4: Wallpaper your Closet Interiors
Infuse style into your closets by lining the shelves and interior surfaces with elegant wallpaper. This simple touch can turn your wardrobe or linen closet into a chic and organized space, bringing joy to everyday routines.
Creative Idea #5: Revive Your Staircase
Revamp your staircase by adorning risers with a medley of coordinating wallpaper patterns. This creative touch transforms an often-overlooked space into a charming and eye-catching architectural feature.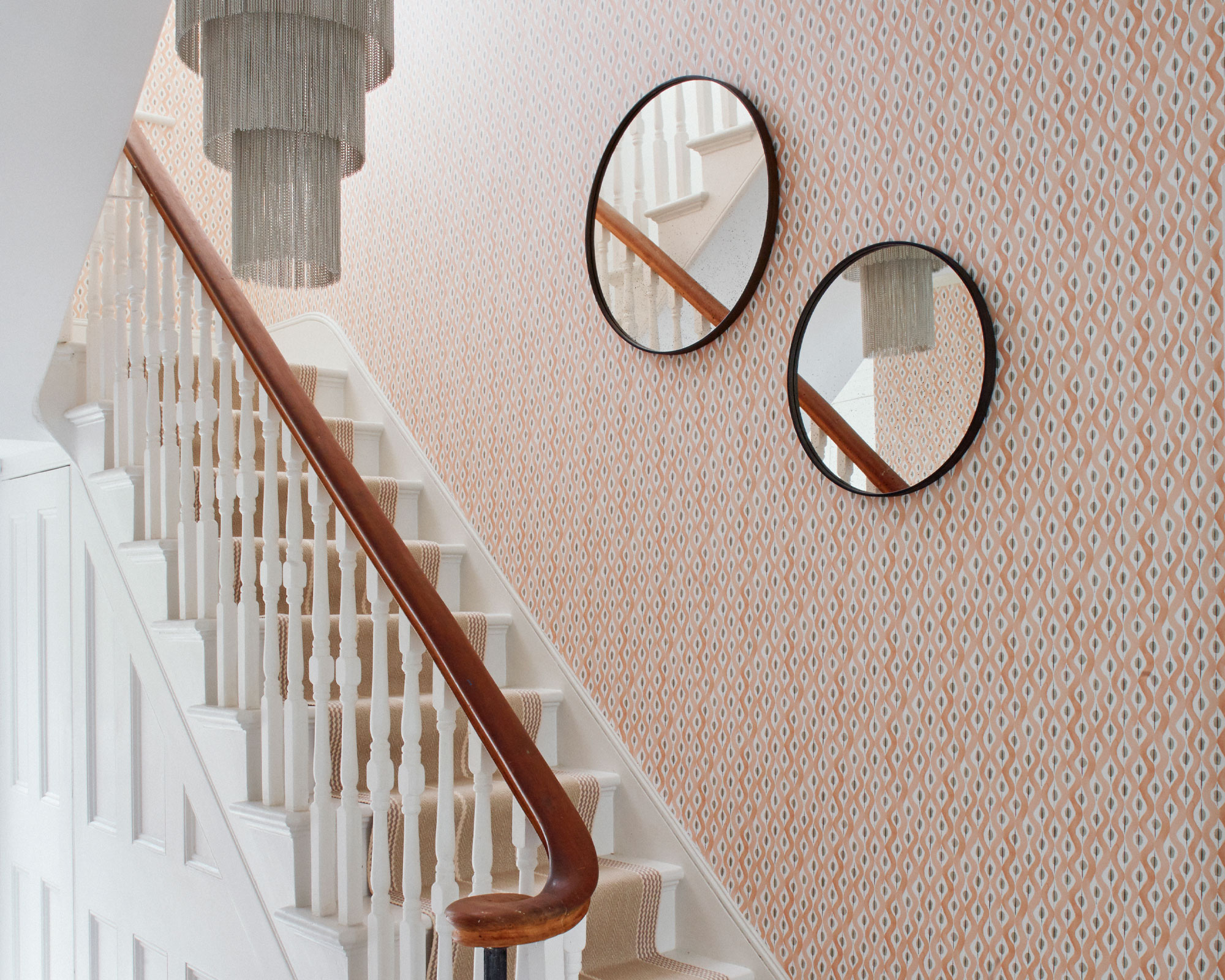 Creative Idea #6: Creating Visual Dividers
Use wallpaper to define and partition areas within an open-concept space. Create visual dividers in the living room or dining area to give each space its distinct identity while maintaining an overall cohesive look.
Here are some captivating wallpaper suggestions to ignite your creativity and breathe new life into your home's decor. Let your imagination run wild as you explore these artistic and innovative wallpaper options, destined to elevate the ambiance of your living spaces and create a unique, personalized haven.
Sophie Wallpaper
Infuse your home with sophistication and a nostalgic touch of romance using this vintage painting ceiling wallpaper. The captivating design is sure to become the centerpiece of conversation, taking you on a delightful journey back to the charming ambiance of the 1980s.
Pictured: Sophie Wallpaper
Birch Braids, Wallpaper
Discover the beauty of our braiding birch bark wallpaper design, a tribute to the age-old traditions found in diverse cultures. Create a serene and calming ambiance by pairing this subtle mural with lush greenery and natural furniture. Ideal for both the bedroom and living room, it brings a touch of timeless elegance to any space.
Pictured: Birch Bark Braids White, Wallpaper
Porcelain, Wallpaper
Exquisite porcelain that has been worn by time in a classic white and blue design. This wall mural brings up memories of flea markets finds – and all those cracks in the surface remind us of the beauty that lies within imperfection.
Pictured: Porcelain, Floral Wallpaper
Hardwood Panels, Wallpaper
Inspired by mid-century interiors, this wood panelling design features minimal woodgrain repetition and actual-size details for a realistic effect. Each panel is approximately 10cm wide with a 3–5mm groove between each panel.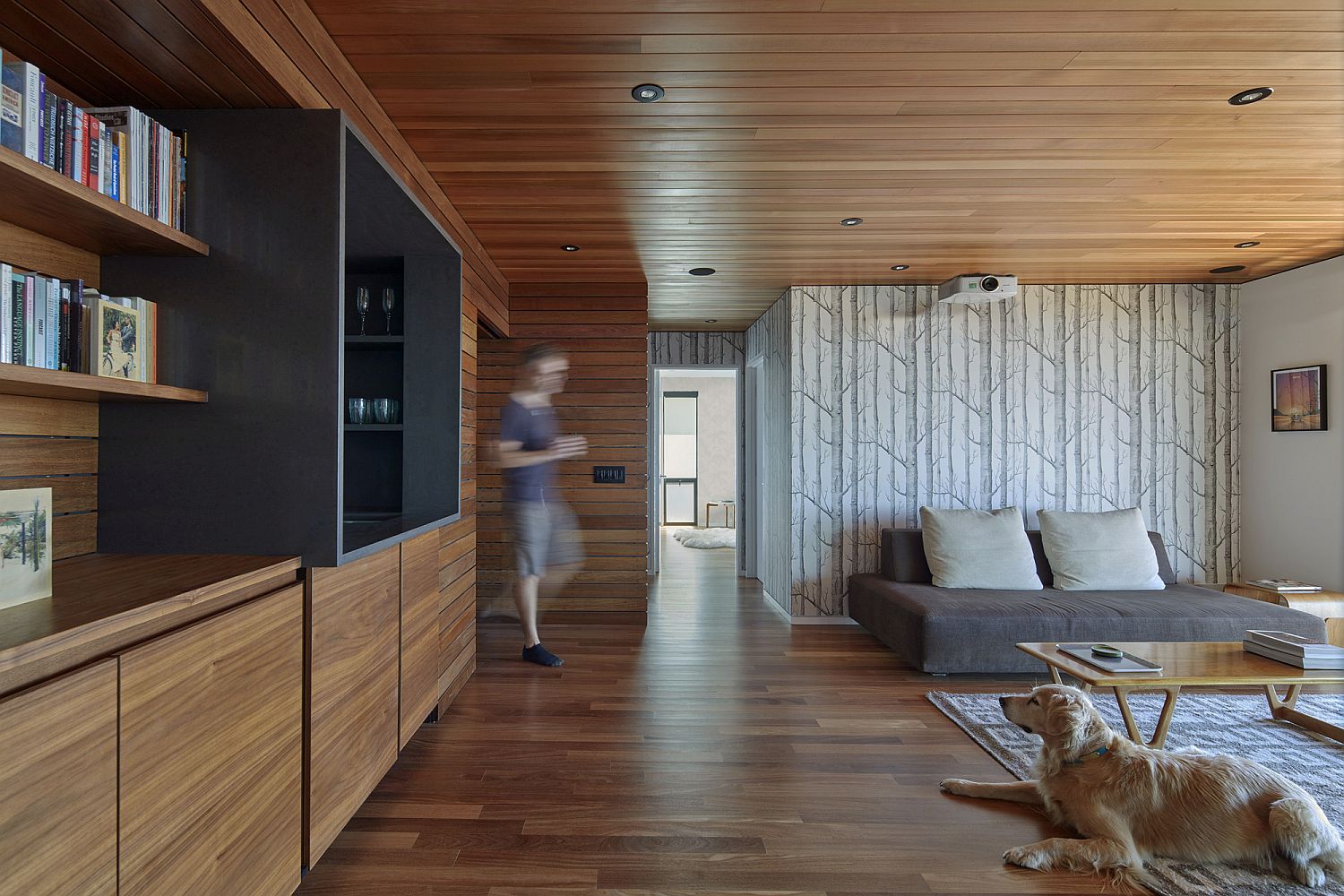 Credit: Photo: Bruce Damont / Hardwood Panels, Wallpaper
Shiplap Wallpaper
The tongue groove design is a timeless classic that offers versatility. Whether applied to the top, bottom, or entire wall, it exudes elegance. When used on the top or bottom, it creates a stunning paneling effect that enhances the overall appeal.
Photo credits: Change and Co
Check out our other visually textured wallpapers here
Botany Mist, Wallpaper
Large scale banana leaves takes centre stage for this ceiling  dark tropical wallpaper. With its dark undertones and lush foliage, this statement wallpaper is perfect for injecting that touch of drama to your room. 
Pictured: Botany Mist, Wallpaper
Moa, Wallpaper
If you've found a wallpaper that you love but you don't want to cover your full bedroom walls with pattern, hang the wallpaper on your closet doors instead.You can hang the wallpapers on the sliding door and use the leftovers to wallpaper the inside of the wardrobe so that no wallpaper goes to waste. How brilliant an idea is that?
Pictured: Moa, Wallpaper
Banana Leaves Wallpaper
Add a distinctive feature wall with the tropical banana pattern wallpaper mural. This watercolour tropical banana leaf design will add a fresh modern touch to your interior walls. This classic piece does a great job at being a feature wall!
Pictured:
Banana Leaves, Wallpaper
Elegant Rainforest Wallpaper 
Accent walls are a great way to transform the look of a room. You can easily bring more personality and style to your space with feature wall ideas. It also provides a great ground to start thinking about how to style and color match your room.
To decide on what wallpaper design to install on your accent wall, you have to ask yourself what you're drawn to. Do you want to bring the outdoors indoors with nature designs or explore having patterns and colors or mimic natural materials such as wood and marble? The options are endless.
Pictured:  Elegant Rainforest, Wallpaper
Check out here for some of our best selling wallpapers for accent walls in Singapore.
Opulent Beauty, Wallpaper
Featured wallpaper: Opulent Beauty
Palm Garden Wallpaper
In moments when you're pondering what to do with that vast empty wall at home, consider a unique approach: turn wallpaper into framed art. Instead of traditional photo walls or expensive paintings, wallpapers can be the perfect solution to elevate your space. This creative hack is budget-friendly, practical, and simple to execute, allowing you to effortlessly dress up your walls with style.
Pictured: Palm Garden, Wallpaper
Lush Kingdom, Wallpaper
Wainscotting is getting very popular these days. This half paint half wallpaper idea is a great way to add wallpapers in small spaces without being overwhelming. Cover the bottom or top half of the wall with wallpaper, and cover the rest of the wall with paint. Most people will choose the option to cover the top half with wallpaper, where the bottom half of walls are filled up with furniture and cabinetry. It also brings visual attention to an elevated level, making the room seem bigger than it actually is.
Pictured: Lush Kingdom, Wallpaper
Delicate Stripes, Wallpaper
Stripes, a perennial favorite and a design that is so versatile. It can be applied to top, bottom, or the entire wall. When applied on either the top or bottom, it creates a paneling like effect that is just gorgeous, just like how its applied on the stairways.
Pictured: Delicate Stripes, Wallpaper
Embrace the versatility of wallpaper and unleash your creativity to achieve stunning interior transformations. From accent walls to framed artwork and even revamping furniture, the options for creative wallpaper use in your home are boundless. By incorporating these imaginative ideas, you can infuse each room with character, style, and your unique personal touch. So, let your creativity soar and embark on an exciting wallpaper journey that will truly make your house feel like a warm and inviting home.
Why choose Hello Circus' wallpapers?
We understand your wall comes in different shapes and sizes. Each wallpaper is therefore customised to the dimensions of your wall, making each wallpaper unique to your home. We also sell by per meter square (Height x Width x Unit Price) and not by rolls so that you only pay for what you need for your wall.
Check out our guide on how to measure your wall for wallpaper!
Benefits of our wallpapers
High Quality:

 Our wallpapers are printed on high quality non-woven paper in factories with the highest standards from 

Europe

. They are reinforced with nylon fibres to make the wallpaper stable and resilient.

Matte and non-reflective:

 Our non woven wallpapers are coated with soft and non-reflective matte finishing.

Safe and non-toxic:

 Our products are printed using stain resistant, VOC-free (Volatile Organic Compounds) inks on breathable, PVC (Polymerizing Vinyl Chloride) free paper. This ensures that your family and more importantly, your kids are not exposed to toxic chemicals which are usually present in traditional paint and wallpapers, all of which may have harmful health effects. 

Antimicrobial Protection
Wallpaper washability:

 All our wallpapers are washable, meaning that their surface is resistant to damage, and any domestic dirt or water stains can be wiped with a damp cloth or sponge.

Resistant to colour fading:

 Our production technology is designed to ensure optimum resistance to colour fading.

Fire resilient:

 Our wallpapers are fire rated in accordance with EN ISO 11925-2.
Read more about our wallpaper materials and check out our Ultimate Guide to Wallpapers for answers to the most commonly asked questions about wallpapers.
Interested in getting our wallpaper?
For wallpaper quotation: Please click on "Get Quote/Buy" of the product page that you like and submit enquiry with wall dimensions. Check out our bestsellers wallpaper collection to get inspired! Installation is available as an add-on service for selected countries.
Feel free to contact us if you have are interested in the following:
Bulk orders

Corporate orders

Selling with us

Collaborations

Press features