Welcome to the world of Eclectic Interior Design, a unique style that encourages you to mix and match, break the rules, and let your creativity run wild. Here are some tips and wallpaper ideas to help you create your own eclectic space.
What is Eclectic Interior Design?
Eclectic design is all about harmony and cohesiveness. It's a blend of different styles, time periods, textures, and colours that come together to create a unique and personalized space. It's about expressing your individuality and creating a home that feels distinctly yours.
Tips to Achieve Eclectic Interior Design
Tip #1: Mix and Match
Don't be afraid to combine different styles. A modern sofa can look great next to a vintage coffee table. The key is to find a common element, like color or material, that ties everything together.
Tip #2: Play with Colour
Eclectic design is known for its bold use of color. Don't shy away from bright, vibrant hues. Use them in your walls, furniture, and accessories.
Tip #3: Layer Textures
Mix different materials and textures to add depth and interest to your space. Combine a sleek leather sofa with a soft, plush rug or a smooth wooden table with textured throw pillows.
Tip #4: Display Personal Collections
Show off your personality by displaying collections of items you love. It could be anything from vintage cameras to colorful glassware.
Tip #5: Balance is Key
While eclectic design encourages mixing and matching, maintaining harmony is essential. Too many different elements can make a room feel chaotic rather than cohesive.
Tip #6: Use Eclectic-inspired Wallpapers
Here are some reasons why you should consider using wallpaper to add some eclectic style to your home: 
Wallpaper is durable and long-lasting. It can withstand wear and tear, making it ideal for busy areas in your home.

Wallpaper is easy to clean and maintain. You can wipe it down with a damp cloth when it gets dirty.

Wallpaper comes in a variety of colours and patterns, so you can find the perfect look for your home.

Wallpaper is relatively inexpensive, so it is a great way to add some style to your home without breaking the bank.

Wallpaper can be used to create a unique and stylish look in your home. If you are looking for a way to make your home stand out, wallpaper is a great option.
Wallpaper Ideas for Eclectic Spaces
Wallpaper can play a significant role in creating an eclectic space effortlessly. Here are a few ideas.
Bold Patterns: Large-scale patterns, like florals or geometrics, can make a big statement in an eclectic room.
Vintage Styles: Vintage or retro-inspired wallpapers can add a touch of nostalgia and charm.
Textured Wallpapers: Wallpapers with a textured or three-dimensional effect can add depth and interest.
Murals: A wall mural can serve as a stunning focal point in an eclectic space.
Metallics: Metallic wallpapers can add a touch of glamour and sophistication.
We have shortlisted some of our favourite eclectic wallpapers below to get you inspired!
Eclectic wallpaper #1: Peonies Garden, Floral Wallpaper
 Discover the enchanting versatility of our Peonies Garden Floral Wallpaper. This eclectic masterpiece showcases delicate peonies in captivating shades of pink, cream, and nude. Elevate any space with this floral mural, appealing to both adults and kids. Embrace creativity in your décor!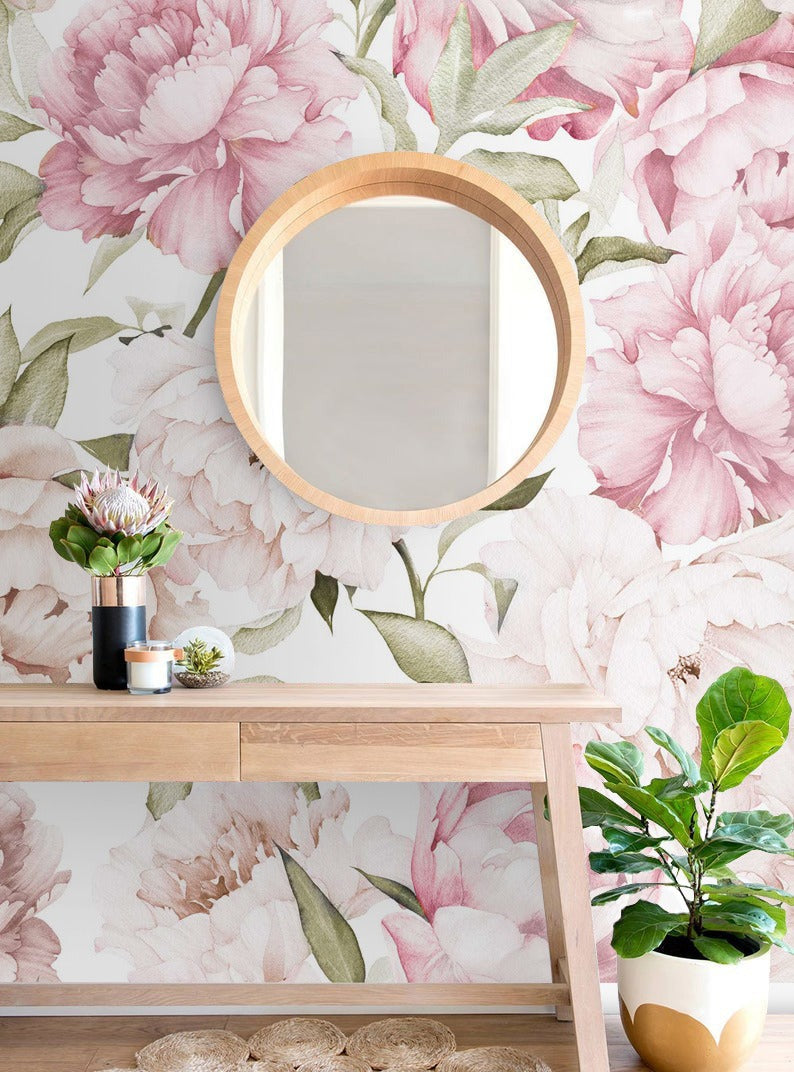 Featured: Peonies Garden, Wallpaper
Eclectic wallpaper #2: Leopard Landscape, Animal Mural Wallpaper
Embark on a mesmerizing journey through time with our extraordinary landscape mural. This eclectic wallpaper transports you to an old-world realm where majestic leopards roam amid lush scenery. Witness graceful gondola rides on tranquil rivers and distant elephants, adding grandeur and intrigue. Immerse yourself in the beauty and mystique of the old world captured within your space. Experience the timeless allure of this remarkable mural!
Featured: Leopard Animal Mural Wallpaper
Eclectic wallpaper #3: Adora, Vintage Floral Mural Wallpaper
Meet Adora, our vintage floral mural wallpaper, a burst of vibrant, oversized flowers in cream, yellow, orange, and blue. This eclectic wallpaper complements any color scheme or design concept, adding stunning charm to every room in your home. Embrace the creativity and let Adora transform your space!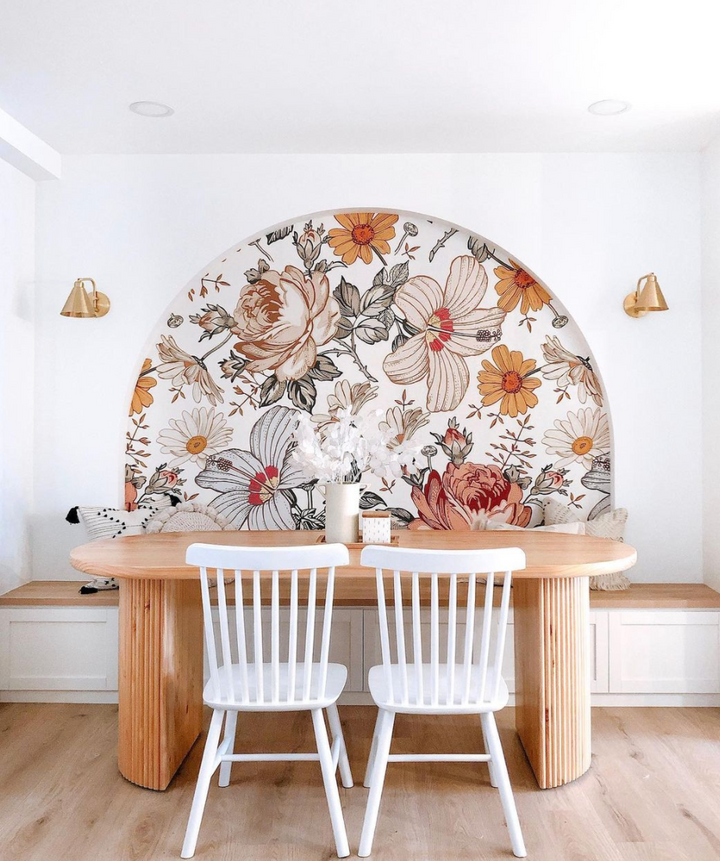 Featured: Adora, Vintage Floral Mural Wallpaper
Eclectic wallpaper #4: Tilda Vintage Roses, Wallpaper
Create a sophisticated and welcoming atmosphere in your home by hanging our Tilda Vintage Roses Wallpaper throughout. This eclectic wallpaper design in neutral and white tones has a classic allure. It is embellished with watercolor strokes that go well with it. Rethink your home's aesthetic right away!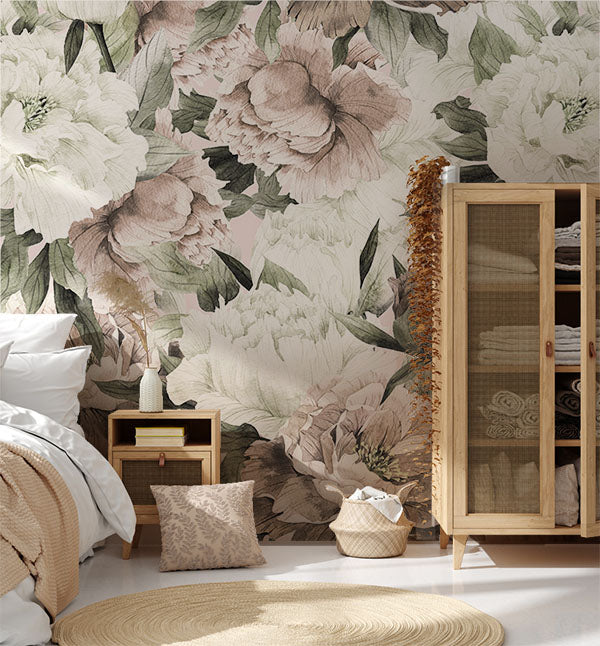 Featured: Tilda Vintage Roses Wallpaper
Eclectic wallpaper #5: Botany Mist, Tropical Mural Wallpaper
The Botany Mist Tropical Mural Wallpaper is an eclectic work of art that will take your room to the next level. The juxtaposition of massive banana leaves with a gloomy background produces a fascinating sense of drama. Introduce a sense of mystery into the space, which will be accented well by the spotless furnishings. This bold piece will help you redefine your design in no time! 
Featured: Botany Mist, Tropical Mural Wallpaper
Eclectic wallpaper #6: Le Montparnasse, Wallpaper
Turn heads with our Le Montparnasse Wallpaper – an eclectic masterpiece. Gold and white watercolor strokes on metallic texture seamlessly blend pink, white, and gold tones. Elevate your kitchen or living room, effortlessly pairing it with light wood decor. Redefine your space with a touch of elegance!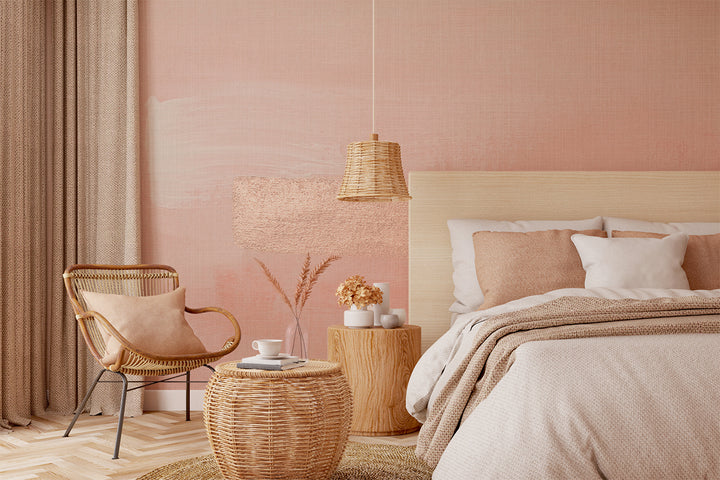 Featured: Le Montparnasse, Wallpaper 
Eclectic wallpaper #7: An Old World Arboretum, Watercolour Mural Wallpaper
Bring the charm of an Old World Arboretum into your home with "An Old World Arboretum, Watercolour Mural Wallpaper." Embrace the English countryside aesthetic with this elegant mural, painted in vibrant, transparent colours. Its impressionistic strokes infuse freshness and tranquility into any room, creating a captivating atmosphere. Redefine your space with eclectic sophistication!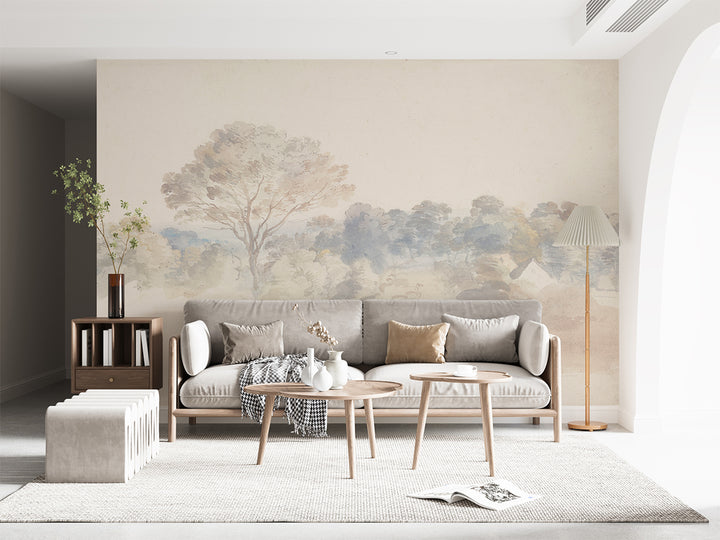 Featured: An Old World Arboretum, Watercolour Mural Wallpaper
Eclectic wallpaper #8: Polished Concrete, Wallpaper
Our "Polished Concrete Wallpaper" is an eclectic masterpiece. Feel the fascination of Concrete Ciré in the shape of a metallic wallpaper with a hint of sheen. Effortlessly create walls that are elegant and attractive. Rethink your home's style with this cutting-edge take on the sophisticated look!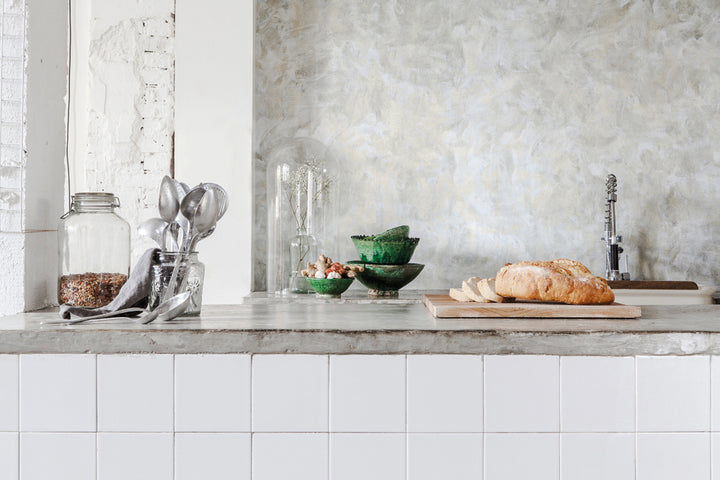 Featured: Polished Concrete, Wallpaper
Eclectic wallpaper #9: Chromatic Brush Strokes, Pattern Wallpaper
Enhance the look of your room with this Eclectic Wallpaper! Our collection's Chromatic Brush Strokes Pattern Wallpaper exudes a sense of refined elegance and sophistication. Its highly textured background is covered in brushstrokes that look as if they were painted with watercolor. Apply your imagination to the task of redecorating your space.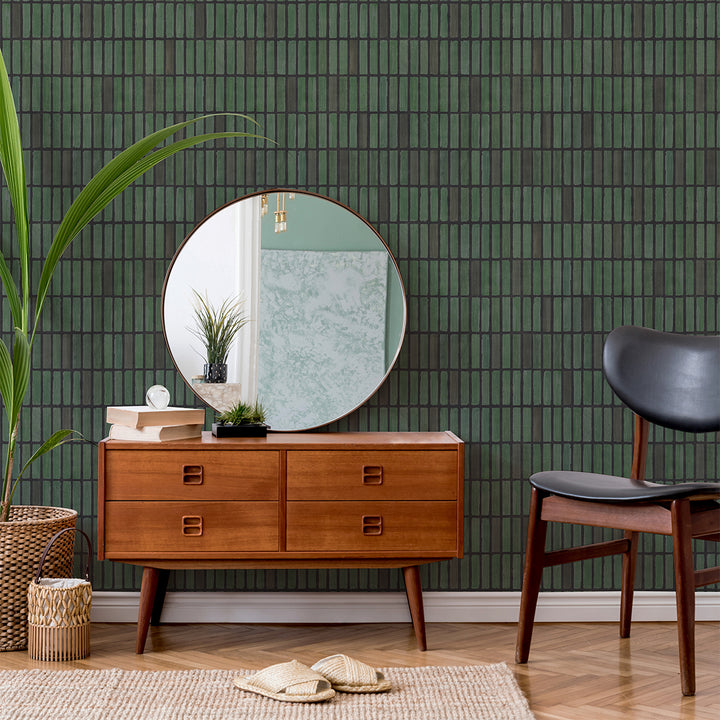 Featured: Chromatic Strokes, Wallpaper
Eclectic wallpaper #10: Above the Clouds, Sky Mural Wallpaper
In the world of eclectic wallpaper design, few things are as captivating as a sky mural. Our Above the Clouds Sky Mural Wallpaper is a work of art that can transform any room into a dreamlike paradise. The wondrous blue sky serves as the perfect backdrop for fluffy, white clouds that seem to come to life right on your walls.
Featured: Above the Clouds, Sky Mural Wallpaper 
Remember, the key to eclectic design is to make it personal. It's about creating a space that reflects your personality, interests, and style. So go ahead, break the rules, mix and match, and most importantly, have fun with it!
Why choose Hello Circus' wallpapers?
We understand your wall comes in different shapes and sizes. Each wallpaper is therefore customised to the dimensions of your wall, making each wallpaper unique to your home. We also sell by per meter square (Height x Width x Unit Price) and not by rolls so that you only pay for what you need for your wall.
Check out our guide on how to measure your wall for wallpaper!
Benefits of our wallpapers
High Quality:

Our wallpapers are printed on high quality non-woven paper in factories with the highest standards from

Europe

. They are reinforced with nylon fibres to make the wallpaper stable and resilient.

Matte and non-reflective:

Our non woven wallpapers are coated with soft and non-reflective matte finishing.

Safe and non-toxic:

Our products are printed using stain resistant, VOC-free (Volatile Organic Compounds) inks on breathable, PVC (Polymerizing Vinyl Chloride) free paper. This ensures that your family and more importantly, your kids are not exposed to toxic chemicals which are usually present in traditional paint and wallpapers, all of which may have harmful health effects. 

Antimicrobial Protection
Wallpaper washability:

All our wallpapers are washable, meaning that their surface is resistant to damage, and any domestic dirt or water stains can be wiped with a damp cloth or sponge.

Resistant to colour fading:

Our production technology is designed to ensure optimum resistance to colour fading.

Fire resilient:

Our wallpapers are fire rated in accordance with EN ISO 11925-2.
Read more about our wallpaper materials and check out our Ultimate Guide to Wallpapers for answers to the most commonly asked questions about wallpapers.
Interested in getting our wallpaper?
For wallpaper quotation: Please click on "Get Quote/Buy" of the product page that you like and submit enquiry with wall dimensions. Check out our bestsellers wallpaper collection to get inspired! Installation is available as an add-on service for selected countries.
Feel free to contact us if you have are interested in the following:
Bulk orders

Corporate orders

Selling with us

Collaborations

Press features