When it comes to decorating your home, choosing the right wallpaper can make all the difference. Pink pattern wallpapers have been gaining popularity recently for their ability to infuse a touch of elegance and style into modern homes. Whether you're looking to create a chic and sophisticated atmosphere or want to add a whimsical charm, pink pattern wallpapers can do wonders for your interior design. In this guide, we'll explore the world of pink pattern wallpapers, discuss their versatility, and highlight a few of our favourite wallpaper designs that can transform your room!
Why pink pattern wallpapers?
Pink, often associated with femininity and romance, may not be the first choice for everyone when it comes to interior decor. However, pink pattern wallpapers offer a wide range of options, allowing you to achieve various moods and styles within your home. Here's why you should consider incorporating them into your modern living space:
Versatility
Pink pattern wallpapers come in a plethora of designs, from subtle pastel hues to bold and vibrant patterns. This versatility allows you to adapt them to your existing decor and personal style. Whether you prefer a soft and muted look or a bold and dramatic one, there's a pink pattern wallpaper to suit your taste.
Elegance
Pink, when used strategically, can exude elegance and sophistication. It's a colour that can instantly transform a room from ordinary to extraordinary. By choosing the right shade and pattern, you can create a luxurious and refined ambience that will impress your guests and make you feel truly at home.
Mood enhancement
The colour pink is known to have a calming and soothing effect on the mind. It can promote relaxation and tranquillity, making it an excellent choice for bedrooms and relaxation spaces. A pink pattern wallpaper can help you create a serene and peaceful environment in your home.
Modern aesthetics
Pink pattern wallpapers are not just for traditional or vintage-inspired interiors. They can work beautifully in modern and contemporary settings, adding a pop of colour and personality to minimalist designs. The juxtaposition of pink patterns against clean lines and neutral tones can create a striking visual impact.
Elevate your space with pink pattern wallpapers
Now that we've established why pink pattern wallpapers are a fantastic choice for modern homes, let's dive into a few of our favourite picks that can take your interior design to the next level.
Igor Shells, Pattern Wallpaper in Nude
Introducing the Igor Shells Pink Pattern Wallpaper in Nude—a timeless fusion of elegance and style. The delicate shell and dome motifs, kissed with a gentle watercolour wash in nude pink, infuse your living space with understated charm. This versatile pink pattern wallpaper complements various interior styles, from contemporary to coastal.
Crafted with the utmost attention to detail, the Igor Shells Wallpaper adds depth and sophistication to any room. Whether you envision a serene bedroom, a chic living room, a charming kitchen, or a soothing bathroom, this wallpaper elevates your decor effortlessly.
Watercolour Cherries, Pattern Wallpaper
Elevate your space with our enchanting Watercolour Cherries Pattern Wallpaper, perfect for creating a dreamy haven for your little one. This captivating pink pattern design features delicate watercolour cherries and lush green leaves, adding a touch of whimsy to any room.
Designed by the talented Megan Tan, an aspiring artist from SOTA, the School Of The Arts in Singapore, this unique creation infuses your decor with artistic flair. Whether it's a cosy living room, a stylish kitchen, an inviting dining area, or a charming children's bedroom, this wallpaper complements any space with effortless grace.
Olof, Floral Pattern Wallpaper in Terracotta
Enrich your interior with the timeless allure of Olof Wallpaper, a captivating pink pattern design that radiates warmth and charm. This exquisite creation takes inspiration from the braided branches of gracefully bowing Rudbeckia, a flower cultivated by the esteemed botanist Olof Rudbeck the Elder in the 17th century. Both the flower and our pattern proudly bear his name, a testament to their enduring beauty.
From living rooms and dining areas to enhancing bedrooms, offices, and even stairways, Olof Wallpaper brings a lovely and vibrant touch to any space. Immerse yourself in the welcoming ambience it adds to your home.
Featured: Olof, Floral Pattern Wallpaper in Terracotta
Select one of your favourite floral designs from our beautiful collection of floral wallpapers.
Perfect Fit Powder Pink, Pattern Wallpaper
Discover the Perfect Fit Powder Pink Wallpaper, a perpetual masterpiece designed to enhance any room with its elegant charm. This pink pattern wallpaper showcases delicate shades of pink complemented by subtle gold accents, making a bold yet refined statement and creating a space that's uniquely yours.
Whether you're decorating your office, living room, dining area, bedroom, bathroom, or any other space, this design ensures it's the ideal choice for creating a stunning feature wall, adding a touch of glamour and style to your home.
Featured: Perfect Fit Powder Pink, Pattern Wallpaper
Revamp your workspace and boost productivity with patterns and styles that inspire. Check out our full range of office wallpapers for more inspiration!
Quaint Jungle, Pattern Wallpaper in Nude
Introducing Quaint Jungle Wallpaper, a pink pattern wallpaper that beautifully blends the allure of the jungle with tropical themes. This muted masterpiece showcases regal tigers amidst lush tropical foliage, creating a harmonious and sophisticated ambience in any space.
Whether you envision it as the centrepiece of your bedroom, the backdrop of your dining room, or an eye-catching addition to your living room, this wallpaper adds a touch of exotic elegance. Elevate your decor with this unique design that promises to turn heads and inspire awe.
Featured: Quaint Jungle, Pattern Wallpaper in Nude
Take a walk on the wild side with our animal-inspired wallpapers!
Botanist, Tropical Pattern Wallpaper in Nude
Step into the enduring elegance of Botanist Tropical Wallpaper, a distinguished addition to our collection of pink pattern wallpapers that effortlessly blends sophistication with a tropical allure. This exquisite design showcases a pattern of tropical leaves in serene muted nude or grey tones, crafting a fresh and invigorating aesthetic to enhance your interior.
From your inviting living room to the snug comfort of your bedroom and the enchantment of a children's nursery, Botanist Tropical Wallpaper reigns as the quintessential choice for those who possess a keen eye for nature's beauty and refined aesthetics.
Featured: Botanist. Tropical Pattern Wallpaper in Nude
Pick out your favourite tropical wallpaper to bring the lush outdoors into your homes!
Bouquet in Pink, Floral Pattern Wallpaper
Indulge in timeless elegance with Bouquet in Pink, Floral Pattern Wallpaper, which effortlessly merges vintage charm with contemporary style. This gracefully illustrated design features delicate pink tones and intricate floral details, creating an effortlessly sophisticated ambience. Ideal for those seeking texture and definition in their decor while maintaining a subtle and harmonious aesthetic.
Its understated charm harmonises with a range of interior styles, making it a fitting choice for various rooms, from the cosy living room and serene bedroom to the vibrant kitchen, welcoming hallway, refreshing washroom, and even the professional office.
Featured: Bouquet in Pink, Floral Pattern Wallpaper
Rebecca, Floral Pattern Wallpaper in Nude
Introducing Rebecca Floral Wallpaper, a stunning nude pink pattern wallpaper that marries the grace of watercolour art with modern design. This exquisite wallpaper boasts an abundance of floating florals, creating a mesmerising visual feast. Its design effortlessly complements various colour schemes, making it the perfect addition to any room.
Whether you're aiming for a subtle and sophisticated aesthetic in your living room, dining area, bedroom, or even your kitchen and stairways, Rebecca Floral Wallpaper delivers.
Featured: Rebecca, Floral Wallpaper in Nude
Karins Bukett, Floral Pattern Wallpaper in Blush Pink
Elevate your space with the exquisite Karins Bukett Floral Wallpaper, a perfect embodiment of timeless elegance. Adorned with graceful oversized florals, this pink pattern wallpaper adds a touch of sophistication to any room.
Pair this wallpaper with dusty pink accents in a chic bedroom for a refined look, or combine it with vibrant colours for a playful feature wall in a nursery or girl's room. From the inviting living room to the cosy bedroom and productive office, Karins Bukett Floral Wallpaper lends its timeless charm to various spaces. Have this floral masterpiece bring a touch of nature-inspired artistry to your decor.
Featured: Karins Bukett, Floral Pattern Wallpaper in Blush Pink
Rowena Trees, Pattern Wallpaper in Blush Pink
Bring a serene and captivating addition to your decor with Rowena Trees Pattern Wallpaper. This botanical pink pattern wallpaper showcases meticulously hand-drawn trees native to Scandinavia, offering a unique and natural touch to your interior. With its minimalistic elegance and calming, relaxed vibes, it's a versatile choice suitable for all rooms and genders, bringing nature's beauty into your living spaces.
Featured: Rowena Trees, Pattern Wallpaper in Blush Pink
Speckle, Pattern Wallpaper in Blush Pink
Breathe new life into your home decor with our charming Speckle Wallpaper, a perfect choice for adding a playful touch of pink pattern wallpaper to your space. This mural brings a fresh and stylish element to your interior design. Whether you're aiming to create a lively atmosphere in your child's nursery or bedroom or looking to infuse a touch of whimsy into your living room or bedroom, this spotty wallpaper offers endless styling possibilities to match your design aspirations.
Featured: Speckle, Pattern Wallpaper in Blush Pink
Twinkle Twinkle Little Stars, Pattern Wallpaper in Pink
Let's sprinkle a dazzling addition for all the starry-eyed kids and dreamers out there with our Twinkle Twinkle Little Stars wallpaper! This enchanting wallpaper features a delicate array of stars that evoke the magic of the Milky Way in our galaxy.
Transform your child's bedroom into a celestial wonderland with this charming design. Let the stars shine brightly on your little one's walls, creating a magical and dreamy atmosphere that's perfect for bedtime stories and stargazing.
Featured: Twinkle Twinkle Little Stars, Pattern Wallpaper in Pink
Want a wallpaper that will grow alongside your kids? Our wallpaper designs are carefully crafted in a style that will mature alongside your kids, so that it won't feel out of place even when they are older! Check out our full collection of wallpapers for kids!
Chalky Stars, Pastel Pattern Wallpaper in Blush Pink
Brace your imagination to wander among the stars with our Chalky Stars Pastel Pattern Wallpaper. This captivating design showcases delicately hand-drawn stars, a serene moon, and whimsical sparkles, creating a dreamy atmosphere suitable for all ages. Whether you're drawn to soft pastels or dreamy muted tones, this pink pattern wallpaper offers the perfect coloruway to complement your style.
This versatile wallpaper is a perfect fit for various rooms in your home, whether you're adorning your living room, bedroom, office, kid's room, or nursery. Transform your decor into a realm of celestial charm and create an atmosphere that's truly out of this world.
Featured: Chalky Stars, Pastel Pattern Wallpaper in Blush Pink

Dive deeper into our curated collection of enchanting wallpaper designs that promise to breathe new life into your cherished living space!
Peonies Garden, Pattern Wallpaper in Blush Pink
Create an atmosphere that's elegant with our Peonies Garden Wallpaper, showcasing large peonies in elegant pink, cream, and nude tones. This enchanting mural is a timeless addition that brings a touch of natural beauty to any space, be it for adults or children.
Ideal for various spaces, from the cosy living room and serene bedroom to the inviting dining area, stylish powder room, kitchen, relaxing bathroom, and even the productive office. Its timeless pattern can brighten up your living spaces, making every day feel like a stroll through a lush peony garden!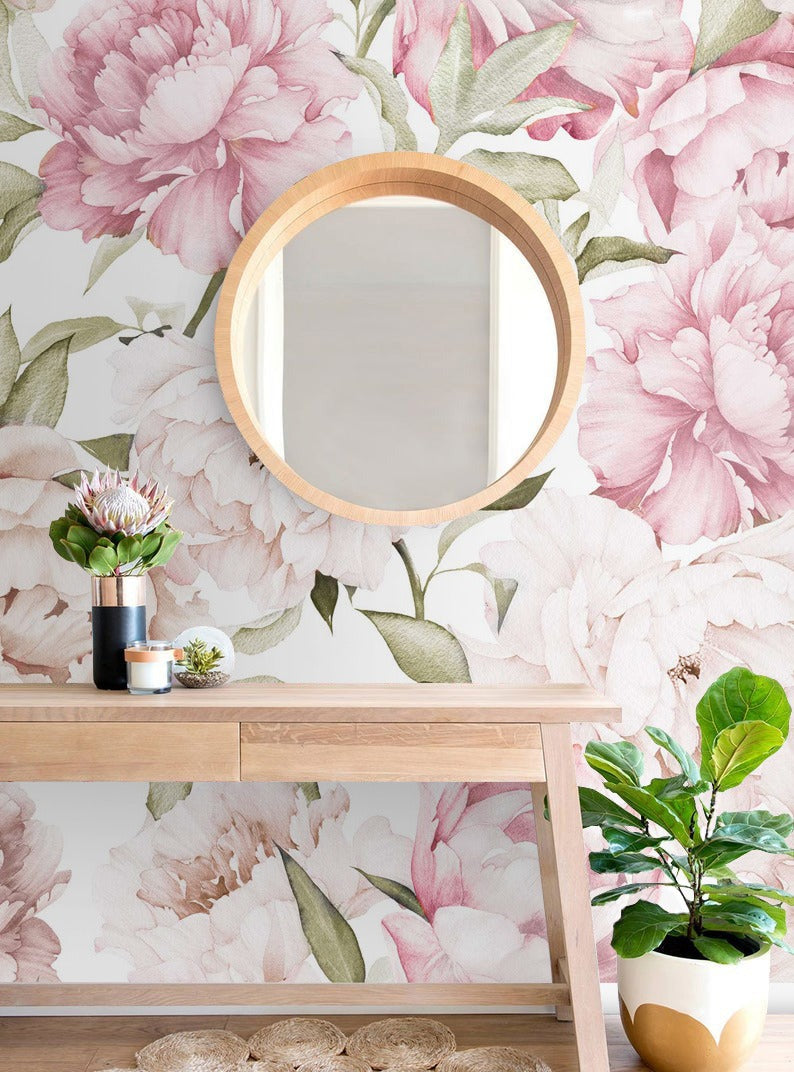 Featured: Peonies Garden, Pattern Wallpaper in Blush Pink
Ready to elevate your powder room to a whole new level of style and sophistication? Dive into our latest guide for some fresh powder room wallpaper ideas and tips that will inspire your next project! Your dream powder room is just a click away.
How to incorporate pink pattern wallpapers into your home
Now that you've explored the Igor Shells Wallpaper and the Watercolour Cherries Wallpaper from Hello Circus, it's time to consider how to incorporate these pink pattern wallpapers into your home. Here are some tips and ideas to get you started:
Create a focal point
Use pink pattern wallpaper to create a stunning focal point in a room. Whether it's an entire wall or just a section, a well-chosen wallpaper can draw the eye and become the centrepiece of your interior design.
Balance with neutrals
To maintain a harmonious and balanced look, pair pink pattern wallpapers with neutral colours like white, beige, or grey. This combination allows the wallpaper to shine without overwhelming the space.
Mix and match
Don't be afraid to mix and match patterns and textures in the same room. For example, you can combine the Igor Shells, Wallpaper with solid-coloured soft furnishings or cushions to create visual interest.
Consider different rooms
While pink pattern wallpapers can work in various rooms, think about the mood you want to create. Soft, pastel pinks like Olof, Floral Pattern Wallpaper are perfect for bedrooms, while bold patterns like Peonies Gardens, Pattern Wallpaper can liven up kitchens and dining areas.
Experiment with accessories
Incorporate pink accents and accessories throughout your space to tie in with the wallpaper. This can include pink cushions, artwork, vases, or even a statement piece of furniture.
Lighting matters
Consider how lighting affects the appearance of your wallpaper. Soft, warm lighting can enhance the elegance of pink pattern wallpapers, while natural light can bring out their vibrancy.
Unveil the Charm: Pink Pattern Wallpapers
In conclusion, pink pattern wallpapers have proven to be a versatile and captivating choice for modern homes. Whether you're seeking to add elegance and sophistication or inject a vibrant burst of energy into your living space, the options are endless, and your creativity knows no bounds. So, why wait? Explore the world of pink pattern wallpapers and start your journey towards a more stylish and inviting home today!
Why choose Hello Circus' wallpapers?
We understand your wall comes in different shapes and sizes. Each wallpaper is therefore customised to the dimensions of your wall, making each wallpaper unique to your home. We also sell by per meter square (Height x Width x Unit Price) and not by rolls so that you only pay for what you need for your wall.
Check out our guide on how to measure your wall for wallpaper!
Benefits of our wallpapers
High Quality:

Our wallpapers are printed on high quality non-woven paper in factories with the highest standards from

Europe

. They are reinforced with nylon fibres to make the wallpaper stable and resilient.

Matte and non-reflective:

Our non woven wallpapers are coated with soft and non-reflective matte finishing.

Safe and non-toxic:

Our products are printed using stain resistant, VOC-free (Volatile Organic Compounds) inks on breathable, PVC (Polymerizing Vinyl Chloride) free paper. This ensures that your family and more importantly, your kids are not exposed to toxic chemicals which are usually present in traditional paint and wallpapers, all of which may have harmful health effects. 

Antimicrobial Protection
Wallpaper washability:

All our wallpapers are washable, meaning that their surface is resistant to damage, and any domestic dirt or water stains can be wiped with a damp cloth or sponge.

Resistant to colour fading:

Our production technology is designed to ensure optimum resistance to colour fading.

Fire resilient:

Our wallpapers are fire rated in accordance with EN ISO 11925-2.
Read more about our wallpaper materials and check out our Ultimate Guide to Wallpapers for answers to the most commonly asked questions about wallpapers.
Interested in getting our wallpaper?
For wallpaper quotation: Please click on "Get Quote/Buy" of the product page that you like and submit enquiry with wall dimensions. Check out our bestselling wallpaper collection to get inspired! Installation is available as an add-on service for selected countries.
Feel free to contact us if you have are interested in the following:
Bulk orders

Corporate orders

Selling with us

Collaborations

Press features