Looking for wallpaper designs for your new baby boy? Or are you planning to revamp and add character to a boy's or kid's bedroom? Why don't you explore wallpapers for their room, it is a great way to add texture and a pop of color. We have rounded up some of our best selling and boys' wallpaper designs. Take your boy's bedroom to a whole new level with some of these boy's room wallpaper design ideas. 
Boy's Bedroom Wallpaper #1: Explorer Atlas, World Map Mural Wallpaper
Plan your next adventure and jet set! This world map wallpaper design features educational designs of animals, names of countries and continents that will help your child learn about that world they live in from an early age. This wallpaper comes in 2 colourway- cool blue for a boys room or sand for a gender neutral kids room.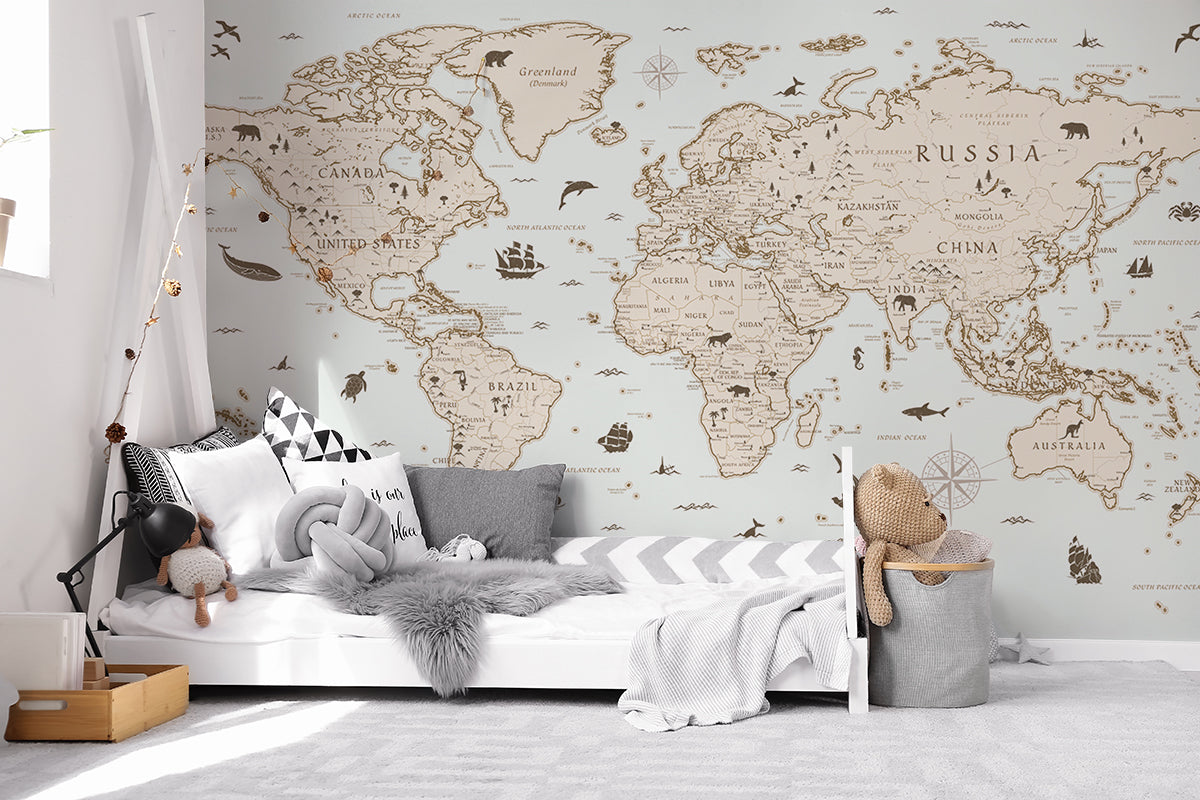 Boy's Bedroom Wallpaper #2: Sail away
Fun ahoy! Sail away behind the ocean's rolling waves with our ocean waves wallpaper design. The perfect blue for a bathroom or boy's room to give that extra sense of serenity and fun. Row row row your boat and off the boys' go on their adventure.
Boy's Bedroom Wallpaper #3: Colombus Blue, Mural Wallpaper
Looking for something vintage? How about adding these old school Colombus wallpaper design on the wall?
This nautical themed boys' room is a fun and creative space for the boys. You can try to bring the feel of the sea to the kid's room by hanging a fishing net decoration or fix an old worn out wooden oar on the wall then hang your family picture frames or kid's name letters from it.
Boy's Bedroom Wallpaper #4: Mini Roadtrippers, Pattern Wallpaper
Boys a
re fascinated by trains, planes and automobiles
. Do you know there is science behind it?
Research suggests that testosterone is the reason
boys
are fascinated in vehicles. Here's for the boys -
there's something special about going on road-trips, exploring and experiencing different destinations. Featuring different modes of transports, maps and adorable renditions of nature, bring out a sense of exploration through this wallpaper design! Did we hear boy's scouts?
Boy's Bedroom Wallpaper #5: Mini Seafarer, Pattern Wallpaper
Featuring lighthouses and seagulls, this is perfect for a nautical themed room. Perfect for boys who dream to explore and conquer waves of the vast sea. 
Certainly one for the brave and curious! 
Boy's Bedroom Wallpaper #6: Waves, Pattern Wallpaper
A minimalist wall for a cool and tasteful boy. Featuring hand drawn waves in a pleasing blue shade provide just that touch of visual interest to all plain walls. With the waves organically placed and in various sizes. 
Pictured: Waves, Wallpaper
Boy's Bedroom Wallpaper #7: Little Sailors, Pattern Wallpaper
A nautical escapade that excites and captivates. Featuring little sail boats and light houses, our Little Sailors wallpaper is the perfect minimalistic addition to help ignite a sense of adventure to the space of your little ones! 
Pictured: Little Sailors, Wallpaper
Boy's Bedroom Wallpaper #8: Animal Paradise, Mural Wallpaper
If your boy is wild about animals, you can consider enchanting your kid with this beautifully designed Animal Paradise, Mural Wallpaper, featuring jungle animals and lush trees. Perfect for the kids with the wildest imagination and thirst for adventure, it's a wonderfully lush mural to freshen up your space!
Featured: Animal Paradise, Mural Wallpaper
Whether you have a menagerie of pets or simply adore all creatures, animal-inspired wallpapers is a fun and stylish way to express your passion! We have a wide range of styles and colours, so you're sure to find the perfect match for your home! Check out our full range of animal wallpapers!
Wallpapers for boys: Transforming Ordinary Spaces into Extraordinary Adventures
Remember, as you embark on this adventure to spruce up your boy's room, it's not just about what looks good, but also about creating an environment that fosters comfort, joy, and a sense of security for your child. Choose designs that resonate with your baby boy's personality and interests, and don't be afraid to get creative with colour palettes, patterns, and accessories.
Ultimately, your baby boy's room should be a reflection of the love and care you have for him, a space where he can play, learn, and grow surrounded by the beauty of his surroundings. So, go ahead and explore our full collection of wallpapers for kids, unleash your inner interior designer, and make his room a place where he can dream, explore, and thrive.
Why choose Hello Circus' wallpapers?
We understand your wall comes in different shapes and sizes. Each wallpaper is therefore customised to the dimensions of your wall, making each wallpaper unique to your home. We also sell by per meter square (Height x Width x Unit Price) and not by rolls so that you only pay for what you need for your wall.
Benefits of our wallpapers:
High Quality: Our wallpapers are printed on high quality non-woven paper in factories with the highest standards from Europe. They are reinforced with nylon fibres to make the wallpaper stable and resilient.
Matte and non-reflective: Our non woven wallpapers are coated with soft and non-reflective matte finishing.
Safe and non-toxic: Our products are printed using stain resistant, VOC-free (Volatile Organic Compounds) inks on breathable, PVC (Polymerizing Vinyl Chloride) free paper. This ensures that your family and more importantly, your kids are not exposed to toxic chemicals which are usually present in traditional paint and wallpapers, all of which may have harmful health effects. 
Antimicrobial Protection
Wallpaper washability: All our wallpapers are washable, meaning that their surface is resistant to damage, and any domestic dirt or water stains can be wiped with a damp cloth or sponge.
Resistant to colour fading: Our production technology is designed to ensure optimum resistance to colour fading.
Fire resilient: Our wallpapers are fire rated in accordance with EN ISO 11925-2.
Interested to get our wallpaper?
For wallpaper quotation: Please click on "Get Quote/Buy" of the product page that you like and submit enquiry with wall dimensions. Installation is available as an add-on service for selected countries.
Feel free to contact us if you have are interested in the following:
Bulk orders

Corporate orders

Selling with us

Collaborations

Press features