Limited space is a common challenge for urban dwellers in Singapore, with median condo size shrinking to just 71 sqm in recent years. Don't let your small home feel cramped. Make the most of your space with strategic styling tips that create an open, spacious feel. Discover how to maximise even the tiniest of spaces.
Condo Living Room Interior Design Tips  
Unlock the full potential of your living room with this interior design checklist. Consider these essential elements before you start planning to create the perfect living room space.
1. Choose a light and neutral color palette
This is the starting point and key when it comes to pulling together a theme you want. Create a cohesive look with a defined color palette, opt for whites and calming neutral tones to maximize your living room's visual space and add dimension. White helps to make the space look bigger by reflecting light off of every surface and gives more depth to the room.
2. Explore stripes wallpaper
The secret to expanding small spaces: Wallpaper stripes! Thin stripes create an illusion of height, with vertical stripes making walls appear taller, and horizontal stripes giving the illusion of width. Designers cannot emphasize how the power of parallel lines provides the visual trick to make a room feel bigger.
A. Vertical Stripes Wallpaper
Vertical stripes will help to stretch a room and make it feel taller than it is. These upward lines create an illusion of height, making your room feel airiness and more spacious.
B. Horizontal Stripes Wallpaper
Horizontal striped wallpaper on the other hand, expands a room's perception by creating an illusion of width.
3. Don't forget the ceiling
Enlivening your ceiling with wallpaper is a bold decor choice that can infuse color, pattern, texture, and vibrancy into any space. Transforming the fifth wall and decorating it with eye-catching elements such as paint and murals have been a decorative feature in both architecture and interior design.
4. Furniture selections
Consider furniture with slim legs to create a sense of openness and avoid cluttering your small space. Proportionate, leggy pieces will leave more floor visible and foster a sense of movement, rather than bulk.
5. Consider an accent wall instead of whole room
Create an impactful living space with a statement feature wall. By harmoniously blending wallpaper with furniture, flooring, and decor, you can add dimension, focus, and even the illusion of increased size to the room.
Wallpapers design ideas to create a focal point for condo living room
Transform your living room with budget-friendly wallpapers that bring in texture and pattern. Discover our top picks for stylish wallpaper designs to make a statement in your living room. 
Scenery Design Wallpaper for Condo Living Room
Bring the beauty of the outdoors inside with a stunning feature wall. From misty mountains to lush forests, immerse yourself in nature's splendor in the comfort of your own home.
Scenery Wallpaper: Boathouse Blues, Landscape 
With a boat house scene wallpaper, bring the ocean and shoreline into your living room. The blue tones create a modern and relaxing atmosphere, perfect for those who love the sea.
Featured: Boathouse Blues, Landscape Wallpaper
Scenery Design Wallpaper: Swaying Reed
The coastal scene wallpaper captures the essence of a relaxing summer day by the sea, bringing the calming and tranquil atmosphere of the ocean into your living space. Perfect for creating a modern and soothing ambiance, this wallpaper is versatile and can be used on one or multiple walls in the room, adding a touch of coastal charm to your home interior.
Featured: Swaying Reed, Wallpaper
Scenery Design Wallpaper: A Old World Arboretum, Wallpaper
Nestled among the gentle, leafy trees of the English countryside, this scene showcases a central tree taking center stage. This painting employs vibrant and transparent colors, complemented by the freshness of watercolor and pen strokes, evoking an almost impressionistic feel to the drawing.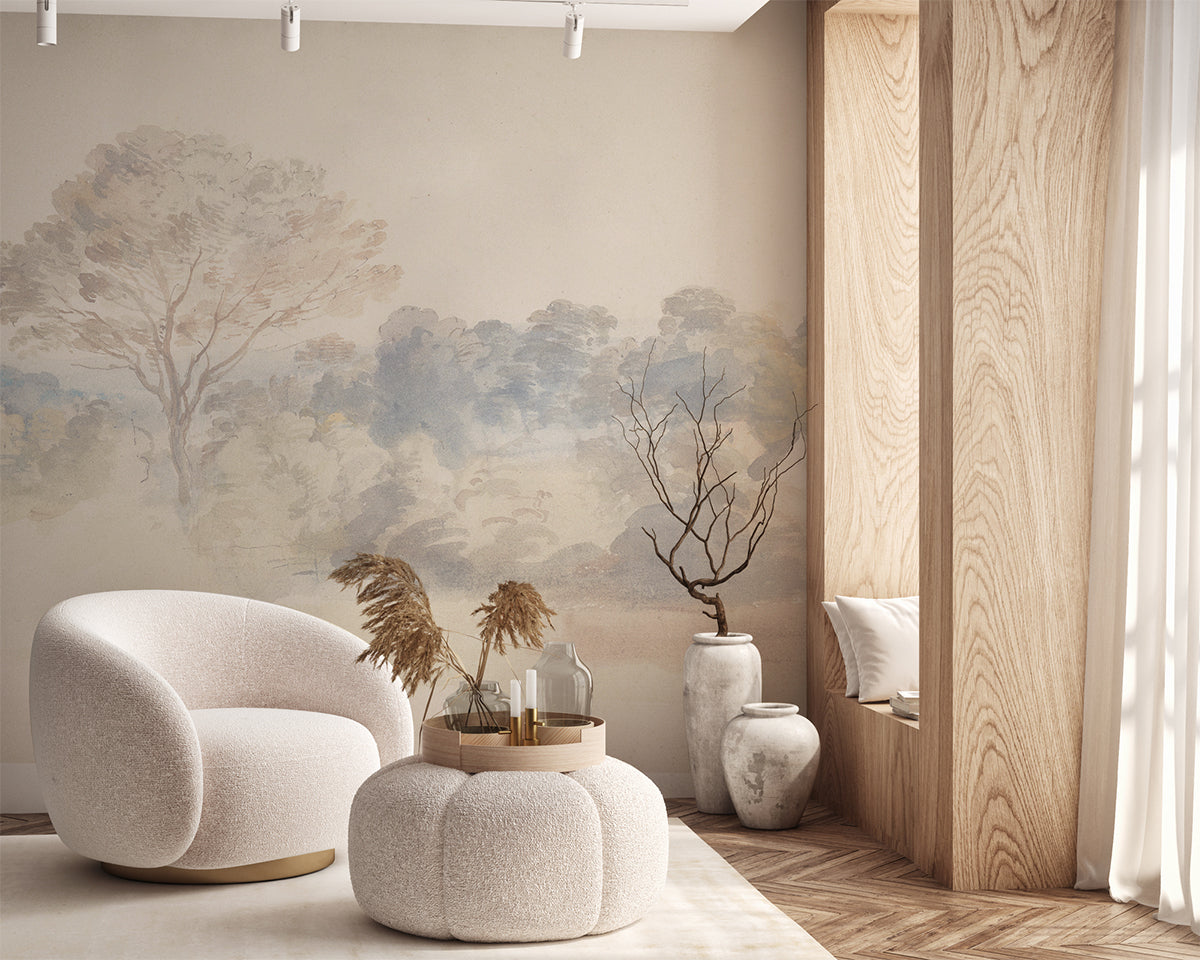 Pictured: A Old World Arboretum, Wallpaper
Scenery Design Wallpaper: Dusk Breeze
This wallpaper captures the serene beauty of the countryside and creates a peaceful atmosphere in your living room. The soft hues of the wildflowers and the sky add a touch of warmth and comfort to the space.
Featured: Dusk Breeze, Wallpaper 
Nature Design wallpaper for Condo Living Room
Let the beauty of nature be a focal point in your home, adding a touch of serenity to your living space.
Nature Design Wallpaper: Sea Foam
The ocean-inspired design brings a fresh, calming atmosphere to any space, making it perfect for creating a relaxing and serene environment
Pictured: Sea Foam, Wallpaper
Nature

 

Design

 

Wallpaper: Kasumisou
This wallpaper design featuring organic gypsophila twigs and flower buds is a warm and textured addition to any room, adding serenity and softness. Versatile and adaptable, it can be positioned in portrait or landscape orientation, making it suitable for both wide and tall walls. Create a cozy and calming atmosphere with this beautiful wallpaper design.
Pictured: Kasumisou Wallpaper
Nature

 

Design

 

Wallpaper: Palm Paradise
Create a tropical oasis in your own home with the Palm Paradise wallpaper. The lush green palm trees are set against a warm and breezy background, giving you the feeling of being on vacation all year round. The natural beauty of the palm trees will stand out even more against wooden furnishings, making it the perfect choice for a nature-inspired space.
Pictured: Palm Paradise Wallpaper
Nature

 

Design

 

Wallpaper: Tropics Botanical, Wallpaper
Welcome fresh tropicals into your space with our tropical botanical wallpaper. The tropical life-sized palm trees and banana leaves warm up the tones in your interiors and add texture to the walls, creating a calming and soothing space.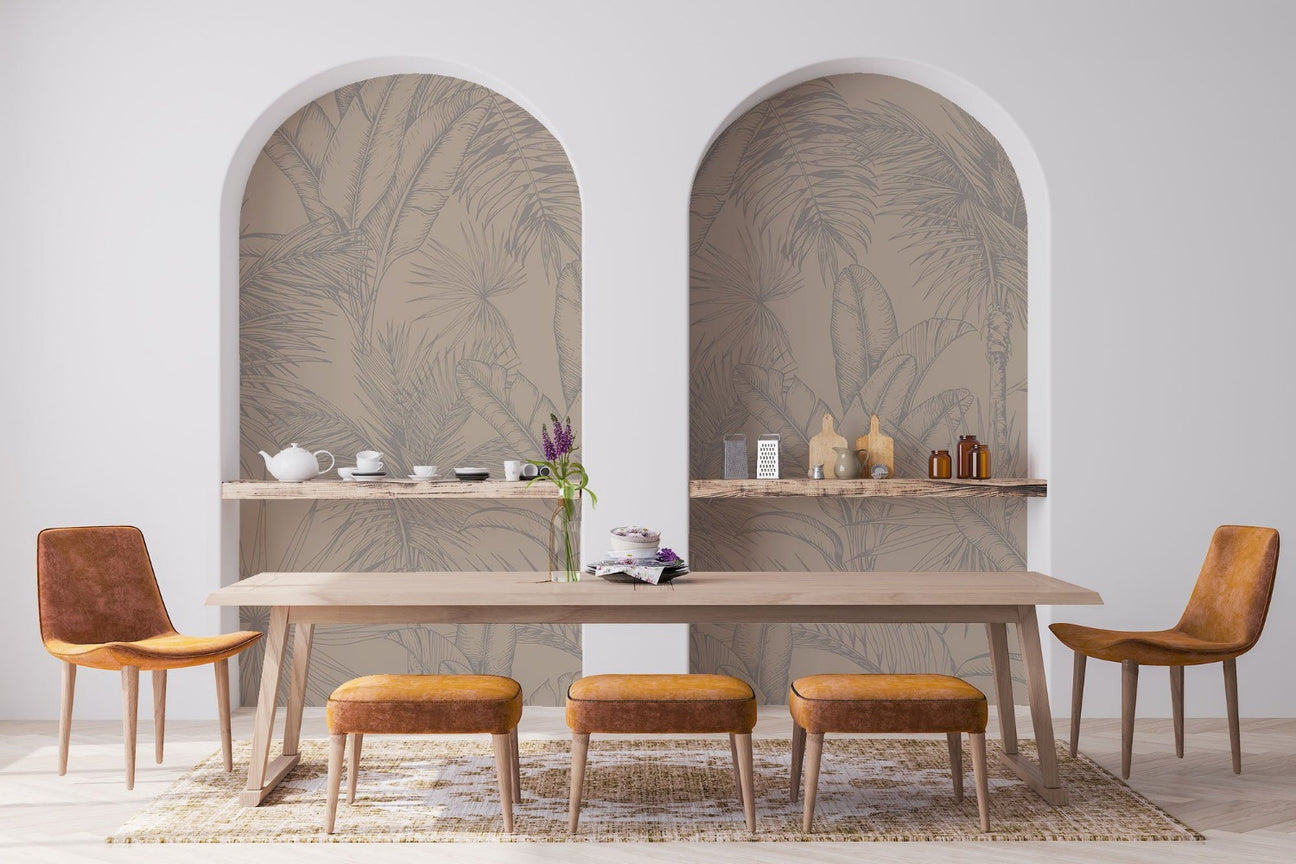 Pictured: Tropics Botanical, Wallpaper
Faux Materials and Texture Design for your Condo Living Room
Create a stylish and on-trend interior space with our range of natural material inspired wallpapers. From sleek black marble to rustic brick, these designs bring a touch of the real thing to your walls, adding texture and interest to any room. These versatile wallpapers can be used to create an industrial feel or to soften spaces with the warm glow of wood paneling.
Textural Design Wallpaper: Rustic White Panels 
Pictured: Rustic White Panel Wallpaper
Textural Design Wallpaper: Hardwood Panels
Pictured: Hardwood Panels, Wallpaper
Textural Design Wallpaper: Shiplap
This tongue groove design is a classic, timeless and versatile piece. It can be applied to top, bottom, or the entire wall. When it is applied on either the top or bottom, it creates a panelling like effect which is gorgeous.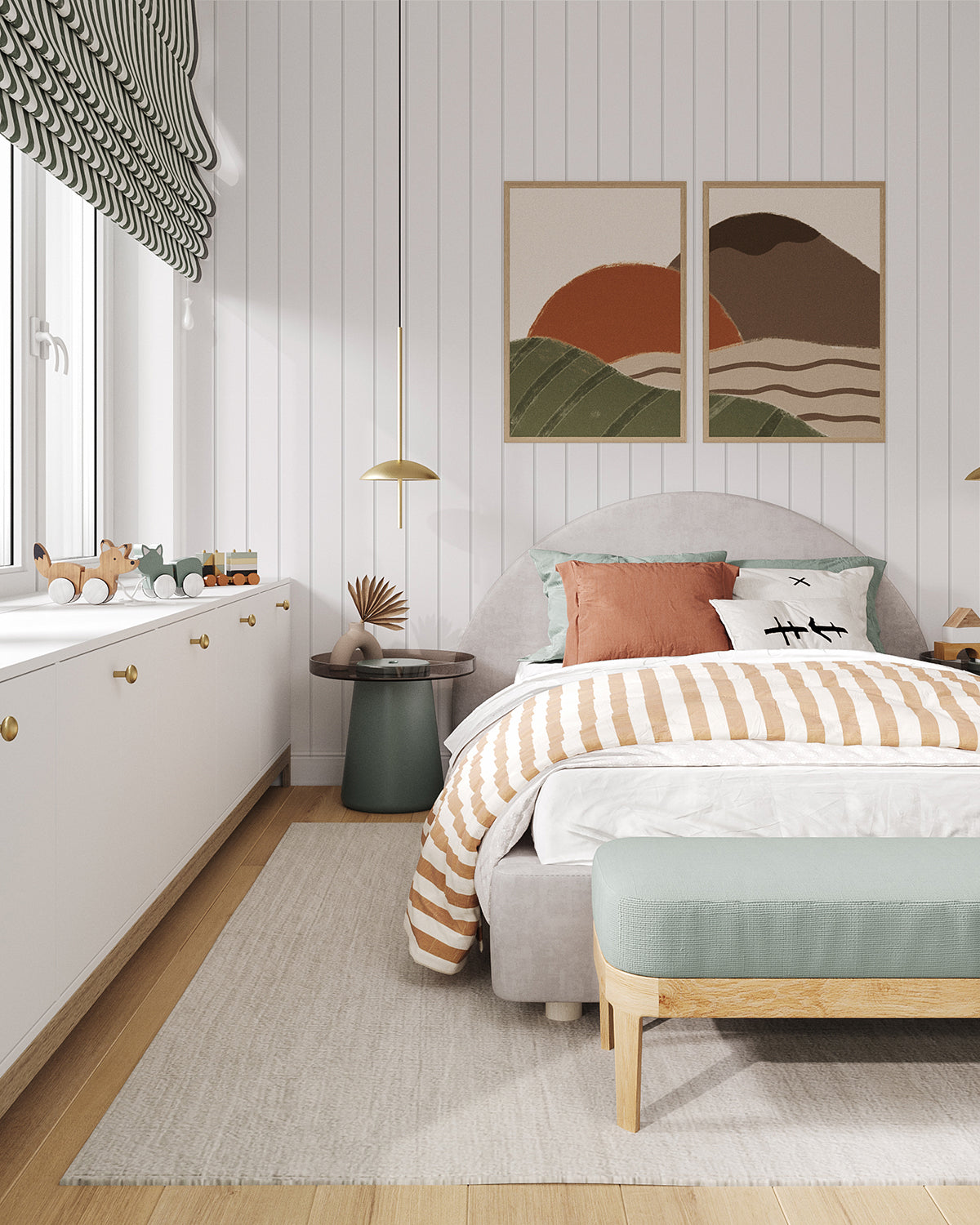 Pictured: Shiplap, Vertical, Wallpaper
Textural Design Wallpaper: Opulent Marble
This hand-drawn gold pattern on marble wallpaper adds a touch of classic sophistication and modern elegance to your living spaces. It creates a feeling of grandeur and opulence, making it suitable for living room.
Pictured: Opulent Marble, Wallpaper
Textural Design Wallpaper: Emerald Tiles
The emerald tile wallpaper features a unique pattern in a washed finish for a vintage look. Ideal for adding a statement touch to any room in your home, such as living rooms.
Pictured: Emerald Tiles, Wallpaper
Art Deco Wallpaper Design for your Condo living room
The intricate patterns and bold colors of art deco wallpaper can bring a touch of glamour and sophistication to any room. These designs range from classic geometric shapes to abstract motifs, perfect for creating a stylish and eye-catching feature wall.
Art Deco Wallpaper Design: Stella Arch Geometric
This Stella mural is a great way to add a touch of sophistication to your space. The arch design and bold grey color palette create a classic and modern feel that can enhance any room in your home. Use it as an accent wall in your living room to elevate the look of the space.
Pictured: Stella Arch Geometric Wallpaper
Art Deco Wallpaper Design: Gingham
This gingham wallpaper adds a charming and timeless touch to any room with its classic pattern. Its linen texture and neutral color palette make it easy to match with various decor styles and furniture pieces.
Pictured: Gingham, Wallpaper
Art Deco Wallpaper Design: Dome Ombre Gradient
Perfect for adding depth and dimension to a space, this dome wallpaper is a great way to update your living rooms.With its gradient design, it will add visual interest to any space and create a stunning feature wall.
Pictured: Dome Ombre Gradient, Wallpaper
Art Deco Wallpaper Design: Geometric Panorama
Designed in collaboration with @houseofchais, this wallpaper draws your eye to the underlying intricate details of the pattern bringing dimension and a modern update to your space. 
Pictured: Geometric Panorama, Wallpaper (HelloCircus x HouseofChais)
Art Deco Wallpaper Design: Confetti Party
This confetti wallpaper adds a pop of color and playful energy to any room. With its textured stamp ink treatment, it adds dimension to your walls while still being versatile and suitable for various spaces. Use it as an accent wall or incorporate it into your decor for a fun and vibrant touch.
Pictured: Confetti Party, Wallpaper
Art Deco Wallpaper Design: Geometric Blue & Gold, Wallpaper
The geometric blue & gold wallpaper features geometric cubic designs in a mainly blue palette in ombre effect, accented by splashes of gold. Definitely makes for a statement wall that will be the talking point of anyone visiting your home.
Pictured: Geometric Blue & Gold, Wallpaper
By incorporating elements such as warm lighting, comfortable seating, and personal accents, you can create a living room that feels welcoming and inviting. The right wallpaper can also play a big role in setting the tone and mood of the room, so choose one that complements your style and enhances the overall aesthetic of the space. For more living room wallpaper ideas, head to living room wallpaper selection here.
Why choose Hello Circus' wallpapers?
We understand your wall comes in different shapes and sizes. Each wallpaper is therefore customised to the dimensions of your wall, making each wallpaper unique to your home. We also sell by per meter square (Height x Width x Unit Price) and not by rolls so that you only pay for what you need for your wall.
Benefits of our wallpapers:
High Quality: Our wallpapers are printed on high quality non-woven paper in factories with the highest standards from Europe. They are reinforced with nylon fibres to make the wallpaper stable and resilient.
Matte and non-reflective: Our non woven wallpapers are coated with soft and non-reflective matte finishing.
Safe and non-toxic: Our products are printed using stain resistant, VOC-free (Volatile Organic Compounds) inks on breathable, PVC (Polymerizing Vinyl Chloride) free paper. This ensures that your family and more importantly, your kids are not exposed to toxic chemicals which are usually present in traditional paint and wallpapers, all of which may have harmful health effects. 
Antimicrobial Protection
Wallpaper washability: All our wallpapers are washable, meaning that their surface is resistant to damage, and any domestic dirt or water stains can be wiped with a damp cloth or sponge.
Resistant to colour fading: Our production technology is designed to ensure optimum resistance to colour fading.
Fire resilient: Our wallpapers are fire rated in accordance with EN ISO 11925-2.
Interested to get our wallpaper?
For wallpaper quotation: Please click on "Get Quote/Buy" of the product page that you like and submit enquiry with wall dimensions. Installation is available as an add-on service for selected countries.
Feel free to contact us if you have are interested in the following:
Bulk orders

Corporate orders

Selling with us

Collaborations

Press features