Elevate your powder room: Wallpaper ideas & tips
When it comes to home decor, the powder room often gets overlooked. But, in reality, it's a space where you can let your creativity shine. One simple yet impactful way to transform your powder room is by installing wallpaper. Wallpaper can instantly inject personality and charm into this small but essential space. In this blog post, we'll explore some powder room wallpaper ideas that will leave your guests in awe and also useful tips in choosing your perfect wallpaper!
Adora, Vintage Floral Mural Wallpaper
Elevate your powder room's charm with Adora, Vintage Floral Mural Wallpaper!  This captivating design boasts vibrant oversized flowers in cream, yellow, orange, and blue hues, offering a timeless elegance that harmonises seamlessly with diverse colour schemes and interior style. A true statement piece, it exudes boldness and sophistication.
Crafted to infuse life into your powder room, this mural wallpaper transforms it into a captivating oasis. Its rich, expressive floral patterns bridge the gap between nostalgia and contemporary style.
Featured: Adora, Vintage Floral Mural Wallpaper
Are you drawn to floral designs? Whether you adore big, bold patterns or prefer subtler arrangements that seamlessly blend with diverse interior styles, you'll discover the perfect design from our stunning collection of floral wallpapers and choose your favourite to infuse your powder room with timeless elegance!
2. Banana Leaves, Tropical Pattern Wallpaper
Transform your powder room with the striking allure of Banana Leaves, Tropical Pattern Wallpaper. This exquisite mural is designed to be the focal point of your space, adding a distinctive feature wall that elevates the space instantly!
Featuring a watercolour-inspired tropical banana leaf design, it brings a refreshing and contemporary flair to your powder room, infusing it with a modern and stylish ambiance. Make a bold statement and redefine your powder room's aesthetic with this exceptional wallpaper.
Featured: Banana Leaves, Tropical Pattern Wallpaper
If you've ever yearned to infuse your home with personality and style but found yourself hesitant to embrace the audacity of bold design choices, head over to our spotlight feature with Niamh Macfadden, Creative Director of Make Room, who shared her expert tips on going bold with design choices!
3. Watercolour Foliage by Olivia, Pattern Wallpaper
Bring the outdoors inside with the Watercolour Foliage by Olivia Wallpaper. This wallpaper captures the beauty of nature with its soft watercolour leaves. It's a perfect choice for those who want a refreshing and calming atmosphere in their powder room. Available in 2 subtle and versatile colourway - Green and Grey.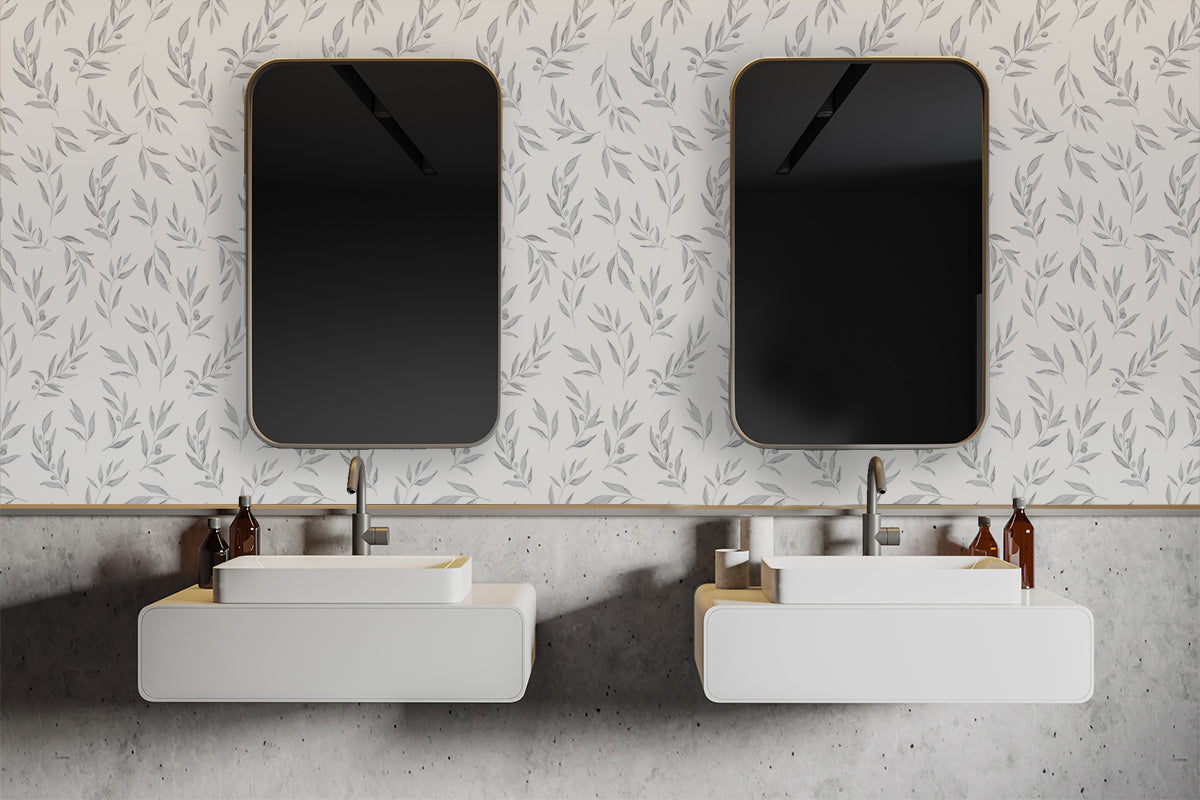 Featured: Watercolour Foliage by Olivia, Pattern Wallpaper
Pick out your favourite tropical wallpaper to bring the lush outdoors into your homes.
4. Cross-Stitch, Pattern Wallpaper
For a touch of quirkiness and nostalgia, consider the Cross-Stitch, Pattern Wallpaper. This unique wallpaper mimics the look of cross-stitch embroidery which puts a unique twist on this classic pattern. It's a playful choice that adds character to your powder room.
Featured: Cross-Stitch, Pattern Wallpaper
5. Coastal Shorelines, Pattern Wallpaper
Dreaming of a coastal escape? The Coastal Shorelines, Pattern Wallpaper brings the beach to your powder room. This wallpaper features repeated illustrations of coastal houses, lighthouses, and more. It's perfect for creating a relaxing and beachy vibe.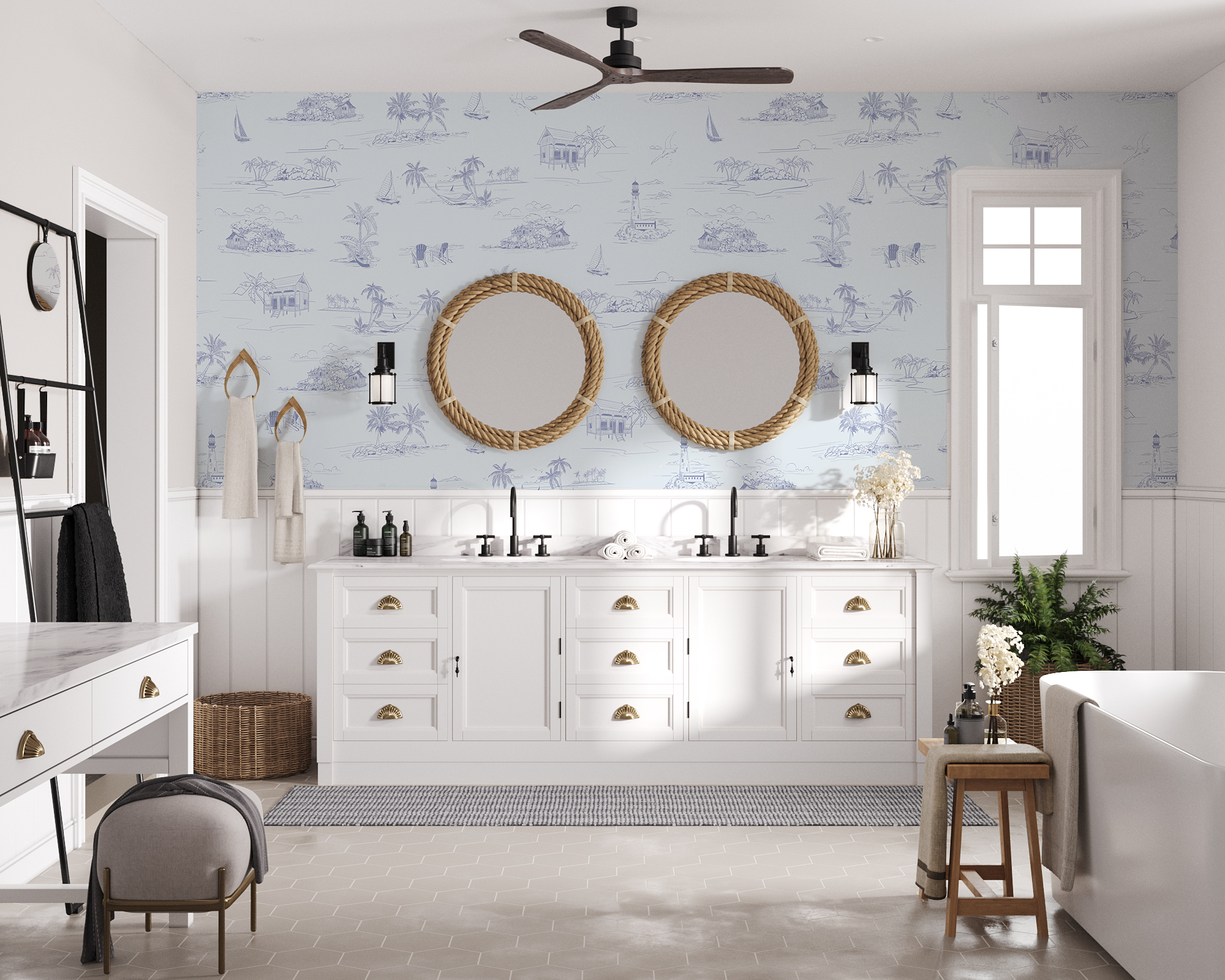 Featured: Coastal Shorelines, Pattern Wallpaper
Coastal interior design is all about creating a relaxing and comfortable space that evokes the feeling of being by the sea. Check out our collection of coastal wallpapers to transform your space into a coastal retreat!
6. Majestic Elephant, Animal Mural Wallpaper
Make a statement in your powder room with the Majestic Elephant, Animal Mural Wallpaper. This stunning mural features a majestic elephant in all its glory. It adds a sense of grandeur and a touch of exoticism to your space. Pair it with rich jewel tones and golden accents to create a regal and opulent atmosphere.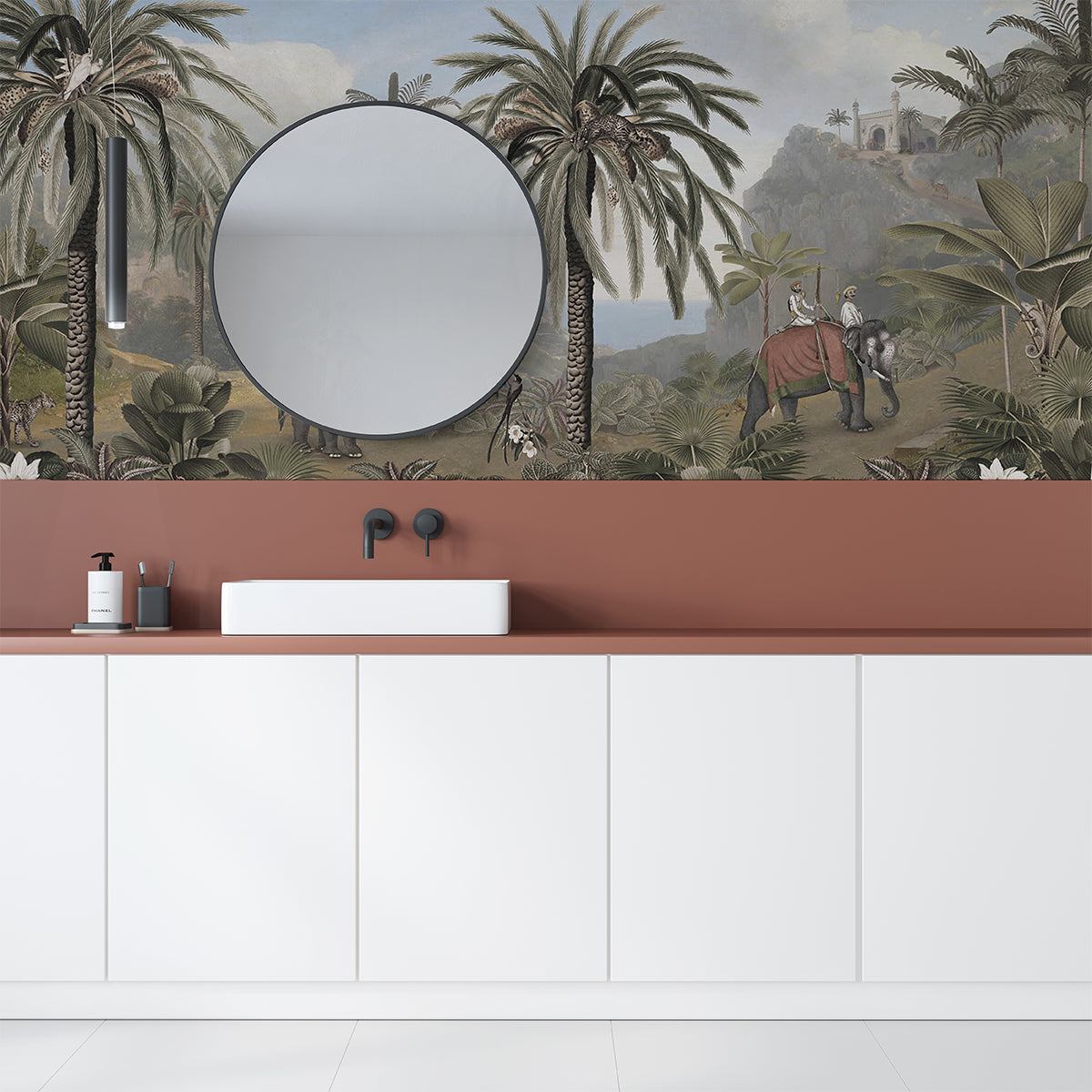 Featured: Majestic Elephant, Animal Mural Wallpaper
7. Lisabet, Floral Pattern Wallpaper
Last but not least, Lisabet, Floral Pattern Wallpaper, is a versatile choice that suits various decor styles. This wallpaper features an elegant and timeless pattern that can complement both traditional and modern powder room designs. It's a safe bet for those who want a sophisticated and polished look.
Featured: Lisabet, Floral Pattern Wallpaper
Tips for choosing the perfect wallpaper for your powder room
Now that we've shared some wallpaper ideas for your powder room, here are some valuable tips to keep in mind as you select your ideal wallpaper:
Consider the scale of the pattern:

The scale of the wallpaper pattern should match the size of your powder room. In smaller spaces, opt for smaller patterns, while larger rooms can accommodate bolder, larger designs.

Take lighting into account: The lighting in your powder room can significantly affect how the wallpaper looks. Test the wallpaper samples under the room's lighting conditions to ensure it complements the space.
Keep maintenance in mind: Powder rooms are prone to humidity and splashes, so choose a wallpaper that's easy to clean and can withstand moisture. Vinyl wallpapers are excellent options for high-traffic powder rooms. Learn more about our wallpaper materials or reach out to us if you have more questions!
Evaluate the colour scheme:

Consider the existing colour scheme of your powder room. Choose a wallpaper that either complements or contrasts with the colours in the room. A complementary colour scheme creates harmony, while a contrasting one adds visual interest.

Think about the style:

Determine the overall style you want to achieve in your powder room. Do you prefer a classic, modern, vintage, or eclectic look? Your wallpaper choice should align with this style.

Think about the mood:

Different wallpapers can set different moods. Soft and subtle patterns may create a calming atmosphere, while bold and vibrant designs can make a statement and energise the space.

Plan for accents: Think about how the wallpaper will work with other elements in the room, such as the vanity, mirror, and accessories. Ensure they complement each other harmoniously.
By following these tips, we hope that you can confidently choose the perfect wallpaper for your powder room, creating a space that's not only visually stunning but also functional and reflective of your personal style.
Benefits of using wallpapers in powder room
Using wallpapers in a powder room can be a fantastic design choice for several reasons:
Instant elegance

: Wallpapers add an immediate touch of elegance and sophistication to your powder room, making it feel more luxurious and inviting to guests.

Personality and style:

Wallpapers offer a wide range of patterns, colours, and textures, allowing you to express your unique style and personality in a small yet impactful space.

Visual interest:

Wallpapers can serve as a focal point or a conversation starter in a powder room, creating visual interest and making the space memorable.

Space enhancement:

Well-chosen wallpapers can visually expand a small powder room, making it feel larger and airier, or they can add warmth and cosiness to a larger space.

Easy updates:

Wallpapers are relatively easy to install and replace, making them a flexible design option. You can refresh the powder room's look without major renovations.
Incorporating wallpaper into your powder room design can transform it from a utilitarian space into a stylish and memorable part of your home.
Transform your powder room instantly with wallpapers!
Now that you've explored these powder room wallpaper ideas and tips, it's time to turn your vision into reality. Remember to measure your walls accurately and choose a wallpaper that resonates with your style and personality. Here at HelloCircus, we offer a wide range of aesthetic and modern wallpapers to suit your preferences, so you're sure to find the perfect match for your powder room transformation!
By adding wallpaper to your powder room, you can elevate its aesthetic appeal and make it a space that leaves a lasting impression on your guests. So, go ahead and embark on this decor journey to create a powder room that reflects your unique taste and style. Happy designing!
Why choose Hello Circus' wallpapers?
We understand your wall comes in different shapes and sizes. Each wallpaper is therefore customised to the dimensions of your wall, making each wallpaper unique to your home. We also sell by per meter square (Height x Width x Unit Price) and not by rolls so that you only pay for what you need for your wall.
Check out our guide on how to measure your wall for wallpaper!
Benefits of our wallpapers
High Quality:

 

Our wallpapers are printed on high quality non-woven paper in factories with the highest standards from

 

Europe

. They are reinforced with nylon fibres to make the wallpaper stable and resilient.

Matte and non-reflective:

 

Our non woven wallpapers are coated with soft and non-reflective matte finishing.
Safe and non-toxic:

 

Our products are printed using stain resistant, VOC-free (Volatile Organic Compounds) inks on breathable, PVC (Polymerizing Vinyl Chloride) free paper. This ensures that your family and more importantly, your kids are not exposed to toxic chemicals which are usually present in traditional paint and wallpapers, all of which may have harmful health effects. 
Antimicrobial Protection
Wallpaper washability:

 

All our wallpapers are washable, meaning that their surface is resistant to damage, and any domestic dirt or water stains can be wiped with a damp cloth or sponge.
Resistant to colour fading:

 

Our production technology is designed to ensure optimum resistance to colour fading.
Fire resilient:

 

Our wallpapers are fire rated in accordance with EN ISO 11925-2.
Read more about our wallpaper materials and check out our Ultimate Guide to Wallpapers for answers to the most commonly asked questions about wallpapers.
Interested in getting our wallpaper?
For wallpaper quotation: Please click on "Get Quote/Buy" of the product page that you like and submit enquiry with wall dimensions. Check out our bestselling wallpaper collection to get inspired! Installation is available as an add-on service for selected countries.
Feel free to contact us if you have are interested in the following:
Bulk orders

Corporate orders

Selling with us

Collaborations

Press features