Dressing up a kid's room can be so much fun. If you're looking to give your kid's bedroom a makeover, how about exploring a space exploration theme? With the rise of movies such as Apollo and Star Wars, we've seen space heroes inspire many kids to dream about exploring the galaxies. Incorporating a space galaxy themed wallpaper is a great way to bring impact to the room. Whether it's promoting ambitions of becoming an astronaut or simply dreaming of visiting outer space galaxies, space galaxy wallpaper designs are a great choice to excite children about their own bedroom galaxy.
Space Galaxy Wallpaper Design #1: Gold Metallic Space Galaxy, Wallpaper
Travel to space! This wallpaper takes you to an atmospheric journey to the moon and back. The dark blue, space-themed wallpaper fascinates both small and bigger astronauts and the pattern has a shimmer gold metallic linen texture to create astronomical vibes. Surrounded by crescent moon and shooting stars, we love how this wallpaper evokes a sense of magic and is soothing as the kids calmly drift off to sleep. Available in 2 colour ways.
Pictured: Gold Metallic Space Galaxy, Wallpaper
Space Galaxy Wallpaper Design #2: Atlas of Astronomy, Wallpaper
How about an astronomy wallpaper for the ceiling? This is an amazing illustration of the northern hemisphere's star map anno 1869. Illustrated constellations rest against an unimaginably beautiful, blue-toned background. Would you dare to add a star wallpaper? 
Pictured: Atlas of Astronomy, Wallpaper
Space Galaxy Wall Decal/ Sticker Design #3: Astronaut, Wall Decals
This Astronaut decal is a fun way to instil a sense of adventure and curiosity in any kids room.They are easy to apply and can be easily removed without damaging your walls. Vinyl wall decals can be applied to walls, doors, windows, and comes in 2 sizes of width 60cm and Height 70cm.
Pictured: Astronaut, Wall Decals
Space Galaxy Wallpaper #4: Sky Full of Stars, Wallpaper
A baby's nursery or child's bedroom should be a place of calm and sanctuary; a place where they can feel comforted. Our unique Starry Night Wallpaper Mural will allow for an atmosphere of restfulness and wonder in your little one's room.
Pictured: Sky full of Stars, Wallpaper
Space Galaxy Wall Decal/ Sticker Design #5: Moon Phases, Wall Decals
An enchanting series of moon decals to illuminate and warm up small to wide spaces. Great for adding a touch of colour to plain walls. This wall decal design will be a great addition to any space or room. Use them in various places like your living rooms, offices, bedrooms and your kid's bedrooms. Available in 3 colorways.
Pictured: Moon Phases, Wallpaper
Space Galaxy Wallpaper #6: Stargazing, Wallpaper
When you look at the sky and try to count the stars, the possibilities of this world seem limitless. This sideways repeatable depiction of the night sky can be used to create an entire room of stars, and inspire the desire to reach for them. An enchanting addition to any kids' room and nursery. Comes in 2 colorways
Pictured: Stargazing, Wallpaper
Space Galaxy Wallpaper #7: Twinkle Twinkle Little Stars, Wallpaper
A dazzling wallpaper made for all the starry-eyed kids out there! This delicate array of stars is reminiscent of the milky ways in our galaxy. Ideal for adding depth and glamour to kids and children's bedroom.Comes in 4 colourways.
Pictured: Twinkle Twinkle Little Stars, Wallpaper
Space Galaxy Wallpaper #8: Lunar, Wallpaper
Inspired by oh.eight.oh.nine, this lunar wallpaper depicts the eight moon phases against a white backdrop. A gender neutral wallpaper for all ages and is great for styling with modern furniture. This wallpaper design is suitable for your kids' bedrooms, nurseries and playrooms.
Pictured: Lunar Wallpaper
Stars Wallpaper Design #9 Stardust, Wallpaper
Add a playful feel to your space with this stylish Wallpaper Mural, a versatile mural that will add a fresh touch to your interior style. The dots help create a warm and relaxing vibe that will refresh your interior style without being too overpowering.
Pictured: Stardust, Wallpaper
Space Galaxy Wallpaper #10: Cloudy Night, Wallpaper
For those aspiring to create a tranquil ambiance in their baby's nursery, the Baby Moon and Stars Wall Mural presents a delightful celestial design featuring a prominent crescent moon and gentle clouds. This adorable mural seamlessly complements any furniture selection, infusing the room with both style and a serene ambiance reminiscent of a captivating galaxy. Experience the calming allure of a nightsky-inspired atmosphere that extends throughout your home with this charming mural.
Featured: Cloudy Night, Wallpaper
Space Galaxy Wallpaper #11: Chalky Stars, Wallpaper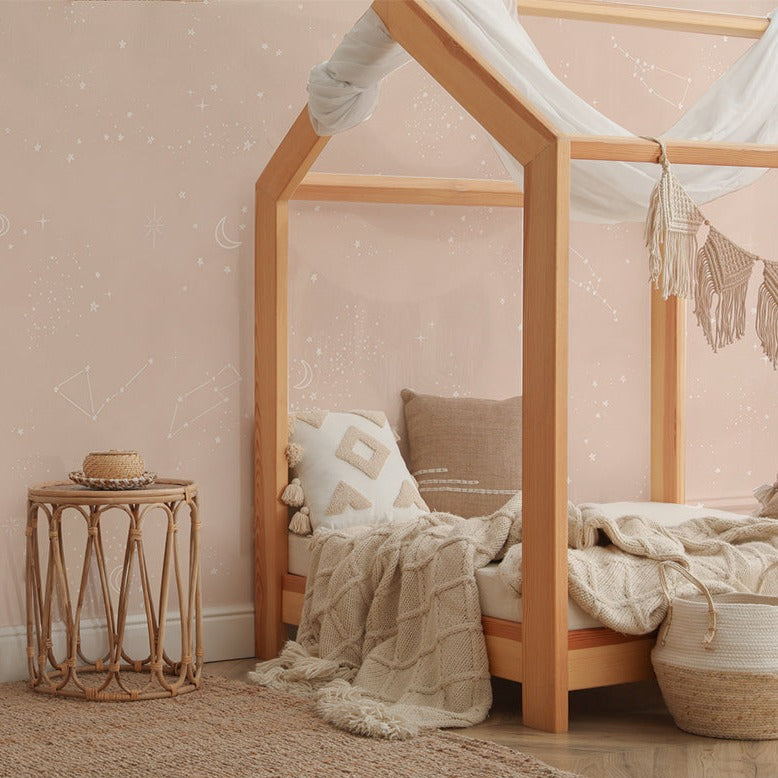 Pictured: Chalky Stars, Wallpaper
Immerse your interiors in a spellbinding galactic aesthetic with our Chalky Stars wallpaper. This exquisite design showcases intricately hand-drawn stars, moons, and sparkles, creating a visually textured look that captivates both the young and the young at heart. With its versatility, this wallpaper effortlessly infuses your space with elements of the outer space and sky, while maintaining a subtle and enchanting allure. Embark on a journey to the stars with our Chalky Stars wallpaper and transform your room into a magical haven of celestial wonder.
Space Galaxy Wallpaper #12: Pink Clouds, Wallpaper
Another realistic photo of clouds in pink. Pink Clouds is a cloud and sky design painted with yellow, orange and red sunset tones that will bring warm and calming feelings to your living spaces. This design brings one of the most beautiful sights of mother nature into your space. It goes perfectly with natural materials like wood, with any orange and golden colours. 
Featured: Pink Clouds, Wallpaper

In conclusion, a space galaxy theme room adorned with captivating wallpapers can transport your child's bedroom to a realm of wonder and exploration. From twinkling stars to vibrant planets and celestial landscapes, these wallpapers bring the mysteries of the universe right into their personal space. Sparking imagination and curiosity, a space-themed room creates a captivating environment that ignites a love for science and discovery. Whether your child dreams of becoming an astronaut or simply finds solace in the beauty of the cosmos, a space galaxy theme room with carefully selected wallpapers is sure to inspire and delight. Watch as their imagination takes flight, propelling them into a world beyond the confines of their bedroom walls. Let their dreams soar among the stars with a space galaxy theme room and wallpapers in their very own bedroom.For other kids wallpapers, do check out our kids and nursery collection here
Why choose Hello Circus' wallpapers?
We understand your wall comes in different shapes and sizes. Each wallpaper is therefore customised to the dimensions of your wall, making each wallpaper unique to your home. We also sell by per meter square (Height x Width x Unit Price) and not by rolls so that you only pay for what you need for your wall.
Benefits of our wallpapers:
High Quality: Our wallpapers are printed on high quality non-woven paper in factories with the highest standards from Europe. They are reinforced with nylon fibres to make the wallpaper stable and resilient.
Matte and non-reflective: Our non woven wallpapers are coated with soft and non-reflective matte finishing.
Safe and non-toxic: Our products are printed using stain resistant, VOC-free (Volatile Organic Compounds) inks on breathable, PVC (Polymerizing Vinyl Chloride) free paper. This ensures that your family and more importantly, your kids are not exposed to toxic chemicals which are usually present in traditional paint and wallpapers, all of which may have harmful health effects. 
Antimicrobial Protection
Wallpaper washability: All our wallpapers are washable, meaning that their surface is resistant to damage, and any domestic dirt or water stains can be wiped with a damp cloth or sponge.
Resistant to colour fading: Our production technology is designed to ensure optimum resistance to colour fading.
Fire resilient: Our wallpapers are fire rated in accordance with EN ISO 11925-2.
Interested to get our wallpaper?
For wallpaper quotation: Please click on "Get Quote/Buy" of the product page that you like and submit enquiry with wall dimensions. Installation is available as an add-on service for selected countries.
Feel free to contact us if you have are interested in the following:
Bulk orders

Corporate orders

Selling with us

Collaborations

Press features