Have you ever thought of installing wallpaper on that fifth wall in your space? A statement ceiling does wonders to transform a space— it instantly makes it feel unique and adds drama. We've shortlisted some ceiling wallpapers design that we love and hope that you'll fancy too, or perhaps use them as inspiration for your mood boards. Read further to take a look at the modern and stylish ceiling wallpapers that we have chosen.
Ceiling Wallpaper #1: Above the Clouds
High above the mountain and in the sky. Have you ever dreamt of being in the clouds? Our Above the Clouds Wallpaper design has fluffy white clouds set against a clear blue sky and looks stunning as a ceiling wallpaper. Imagine waking up to this wallpaper every morning with fluffy and white clouds above you. 

Pictured: Above the Clouds, Wallpaper
Ceiling Wallpaper #2: Sophie
Add a feel of sophistication and a romantic nod to the past in your home with this vintage painting. This statement wallpaper design will for sure be the main subject of conversation in your home. Let's get transported back to the 1980s!
Ceiling wallpaper #3: Birch Braids
If you are looking for a more subtle design, patterns wallpaper is a great way to add texture to your ceiling without being overwhelming. You can explore stripes wallpaper to create an illusion of a wider room.  
Check out this braiding birch bark wallpaper design, which portrays an old tradition in many cultures. Style this subtle mural wallpaper with lush greenery and natural furniture for a subtle calming effect. Great for the bedroom or living room.

Pictured: Birch Bark Braids White, Wallpaper
Ceiling wallpaper #4: Porcelain
Exquisite porcelain that has been worn by time in a classic white and blue design. This wall mural brings up memories of flea markets finds – and all those cracks in the surface remind us of the beauty that lies within imperfection.
Pictured: Porcelain, Wallpaper
Ceiling wallpaper #4: Hardwood Panels, Wallpaper
Inspired by mid-century interiors, this wood panelling design features minimal woodgrain repetition and actual-size details for a realistic effect. Each panel is approximately 10cm wide with a 3–5mm groove between each panel.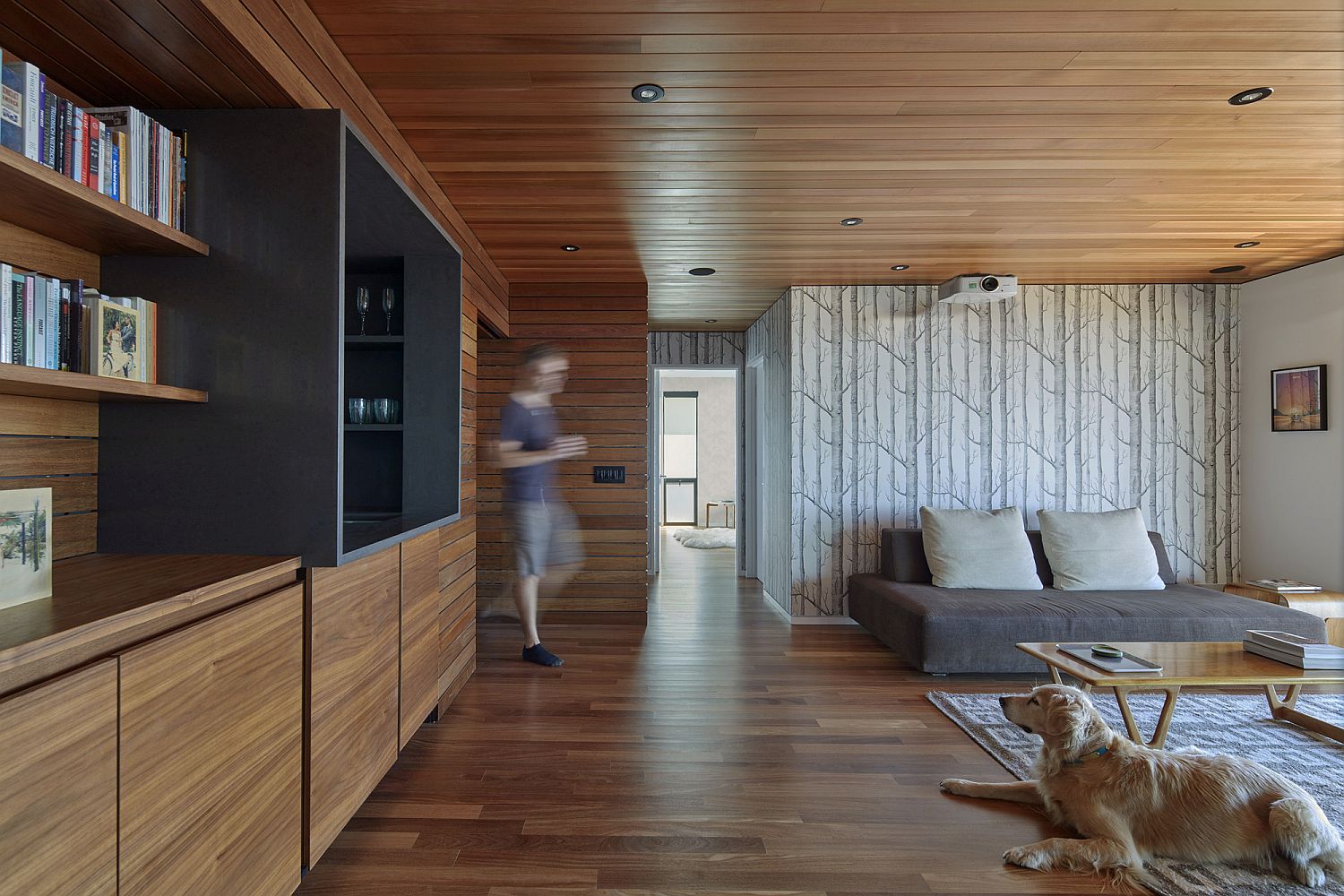 Credit: Photo: Bruce Damont / Hardwood Panels, Wallpaper
Ceiling wallpaper #5: Shiplap
This tongue groove design is a classic, timeless and versatile piece. It can be applied to top, bottom, or the entire wall. When it is applied on either the top or bottom, it creates a panelling like effect which is gorgeous.
Photo credits: Change and Co
Ceiling Wallpaper #5: Botany Mist, Wallpaper
Large scale banana leaves takes centre stage for this dark tropical wallpaper. With its dark undertones and lush foliage, this statement wallpaper is perfect for injecting that touch of drama to your room. Style it against simple, clean furniture.
Pictured: Botany Mist, Wallpaper
Ceiling Wallpaper #6: Atlas of Astronomy, Wallpaper
That perfect wallpaper for the ceiling.  This is an amazing illustration of the northern hemisphere's star map.
Pictured: Atlas of Astronomy, Wallpaper
Ceiling Wallpaper #7: Bubble Gum Clouds, Wallpaper
If blue clouds are too mainstream for you, welcome this playful pastel pattern into your space and enjoy the positive aura it adds to your interior. Featuring watercolour brush strokes, it will surely uplift any room and bring about plenty of cheer. This wallpaper grows up with the kids. It is just as pretty for the tiniest tot as it is for older kids.
Pictured: Bubble Gum Clouds, Wallpaper
Ceiling Wallpaper #8: Bubble Gum Clouds, Wallpaper
The crackle wallpaper is meant to be a reminder of the beauty of imperfection. Evenly spaced random dark crackles construct a graphic line pattern, adding structure to the room and can used in dynamic ways - ceiling, walls, kids room, living room and bedroom.
Ceiling wallpapers are versatile
Wallpapers are versatile and most wallpapers designs can be used for ceiling. There is so much creativity to be unleashed when styling for a ceiling wallpaper. Not forgetting, it's easy to swap out the ceiling without having to re-organize your space.
For more ceiling wallpaper inspiration, head over to our ceiling wallpaper collection
Why choose Hello Circus' wallpapers?
We understand your wall comes in different shapes and sizes. Each wallpaper is therefore customized to the dimensions of your wall, making each wallpaper unique to your home. We also sell by per meter square (Height x Width x Unit Price) and not by rolls so that you only pay for what you need for your wall.
Benefits of our wallpapers:
High Quality: Our wallpapers are printed on high quality non-woven paper in factories with the highest standards from Europe. They are reinforced with nylon fibres to make the wallpaper stable and resilient.
Matte and non-reflective: Our non woven wallpapers are coated with soft and non-reflective matte finishing.
Safe and non-toxic: Our products are printed using stain resistant, VOC-free (Volatile Organic Compounds) inks on breathable, PVC (Polymerizing Vinyl Chloride) free paper. This ensures that your family and more importantly, your kids are not exposed to toxic chemicals which are usually present in traditional paint and wallpapers, all of which may have harmful health effects. 
Antimicrobial Protection
Wallpaper washability: All our wallpapers are washable, meaning that their surface is resistant to damage, and any domestic dirt or water stains can be wiped with a damp cloth or sponge.
Resistant to colour fading: Our production technology is designed to ensure optimum resistance to colour fading.
Fire resilient: Our wallpapers are fire rated in accordance with EN ISO 11925-2.
Interested to get our wallpaper?
For wallpaper quotation: Please click on "Get Quote/Buy" of the product page that you like and submit enquiry with wall dimensions. Installation is available as an add-on service for selected countries.
Feel free to contact us if you have are interested in the following:
Bulk orders

Corporate orders

Selling with us

Collaborations

Press features