As the seasons shift, who wouldn't want to bask in the joyous vibes of summer, no matter the time of year? With the power of summer-inspired wallpaper, you can infuse your living spaces with the eternal spirit of the sun-soaked season. From tranquil coastal scenes to lush tropical paradises, these summer wallpaper ideas will transport you to your favorite warm-weather destinations, allowing you to relish the carefree ambiance of summer all year round. Discover how you can effortlessly bring the captivating essence of summer indoors, creating an eternal haven of sunlit happiness right in your own home.
Top 20 Aesthetic Summer Wallpaper Designs
#1 Mini Beach Day, Wallpaper
Elevate your space with  this eternal aesthetic Summer Vibes: Embrace the Perpetual Sunshine at Home! Indulge in the sun's warm embrace and relish the gentle sea breeze all year long! Immerse yourself in the carefree aesthetics of summer with a touch of whimsy and nostalgia. This particular wallpaper offers a delightful ensemble of flamingo floats, effervescent ice-cold lemonades, and charming sandcastle motifs.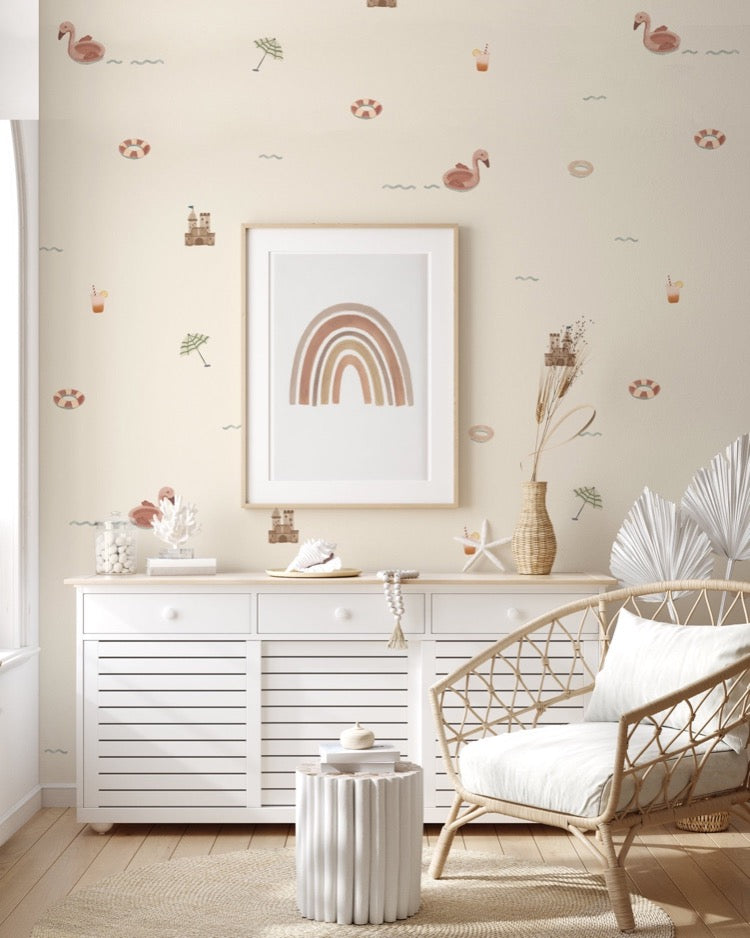 Pictured: Mini Beach Day, Wallpaper
#2  Garden Edens, Wallpaper
Drawing inspiration from the vibrant gardens of Southeast Asia, the Garden Edens Wallpaper showcases meticulously hand-painted botanicals by Pearlyn and Paper. Combining the best of classic and contemporary color tones, this mesmerizing wallpaper mural breathes a sense of modern freshness into any space. Its captivating design is sure to infuse your room with a touch of elegance and a burst of natural beauty.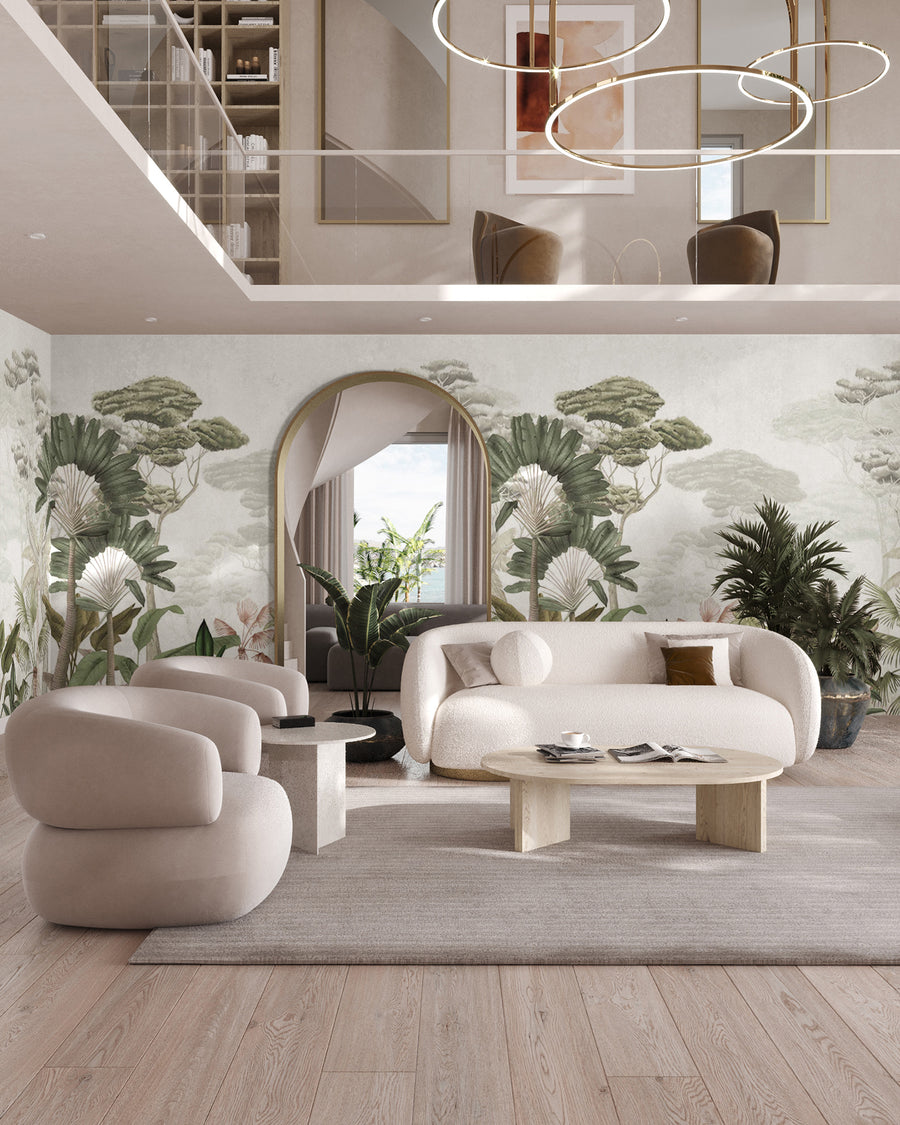 Featured: Garden Edens Wallpaper 
#3 Coastal Shorelines, Wallpaper
Drawing inspiration from the serene waters that envelop us and the expansive feeling of the coastline, this wallpaper design exudes a light and breezy essence, perfect for infusing your interiors with the aesthetics of summer.
Pictured: Coastal Shorelines, Wallpaper
#4 Coastal Beach Day, Wallpaper
Allow your kids to bask in the sun's warmth without enduring the heat through the coastal aesthetics of this wallpaper. Brimming with palm trees, sandcastles, and sailboats, it evokes the joys of days spent on the beach during aesthetic summer, infusing their space with a delightful beachside ambiance.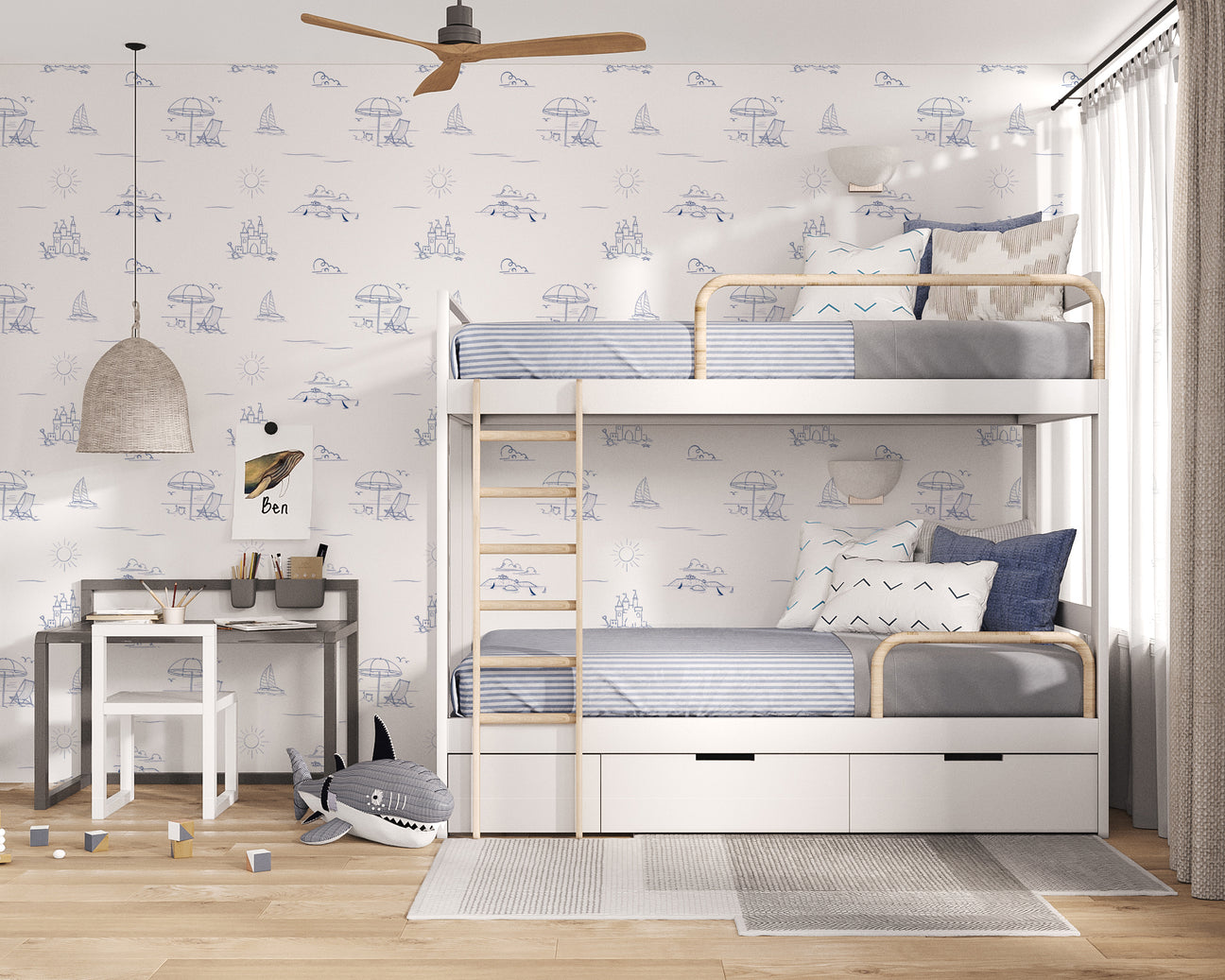 Featured: Coastal Beach Day, Wallpaper
#5 Peonies Garden, Wallpaper
Exuding natural elegance, the exquisite Peonies Garden mural is a stunning display of soft pink, cream, and nude-hued peonies. This captivating floral design brings a sense of serenity and tranquility to any room, providing a soothing atmosphere that invites relaxation after a long day. With its timeless beauty and classic charm, the Peonies Garden wallpaper is an ideal choice for adding a touch of sophistication to your home decor. Let its delicate blossoms transform your space into a sanctuary of refined beauty.

Featured: Peonies Garden Wallpaper
#6 Playground Adventures, Animal Mural Wallpaper
Infuse your child's room with the enchanting spirit of aesthetic summer by transforming it into a vibrant playground haven. This whimsical wallpaper breathes life into animated animals who joyfully frolic amidst a vivid landscape of playful elements – from the slide and merry-go-round to the swing and picnic setting. As these lively scenes unfold, they kindle boundless creativity and ignite the flames of imagination. With this captivating mural, you're gifting your kids an everlasting reservoir of adventures and boundless hours of sheer delight.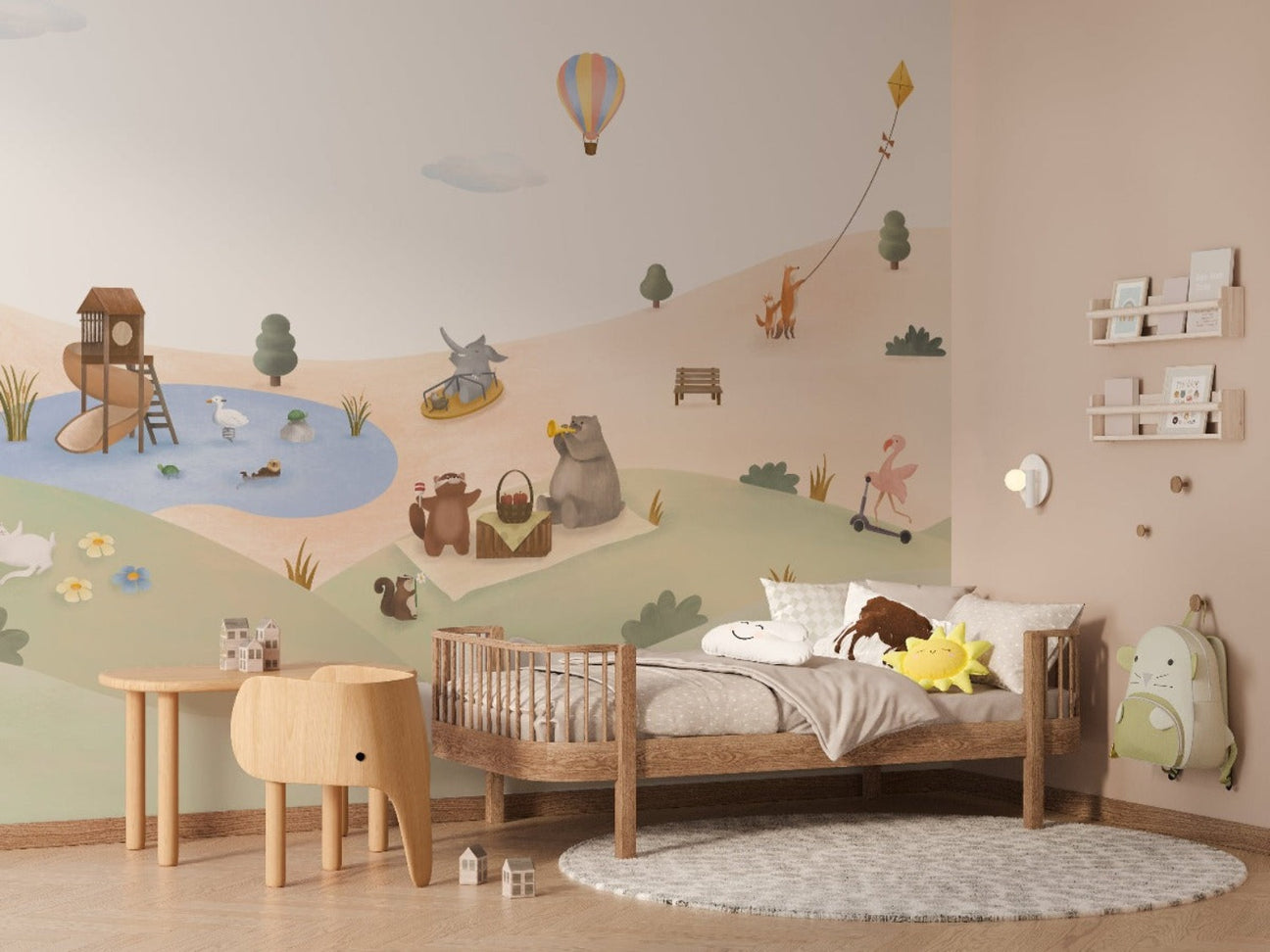 Featured: Playground Adventures, Animal Mural Wallpaper
#7 Summer by the Pool, Wallpaper
This charming patterned wallpaper showcases petite figures joyfully swimming and floating, as if they're relishing the carefree essence of aesthetic summer. It's a design that encapsulates the idea of shedding worries and embracing leisure, just like those serene moments by the water. This wallpaper is certain to imbue your space with a comparable sense of relaxation and radiant smiles.
Featured: Summer by the Pool, Wallpaper
#8 Garden Bloom, Wallpaper
This stunning wallpaper features hand-painted watercolour leaves in a soothing palette of soft green tones, created by the talented artists at Pearlyn and Paper. With its soft leaf design, the Garden Bloom Wallpaper is perfect for creating a minimal boho living room, a cosy Scandinavian bedroom, or a gender-neutral nursery space. The subtle nature-inspired accent wall beautifully blends in with your favourite furniture and decor pieces, adding a touch of understated elegance to any room in your home.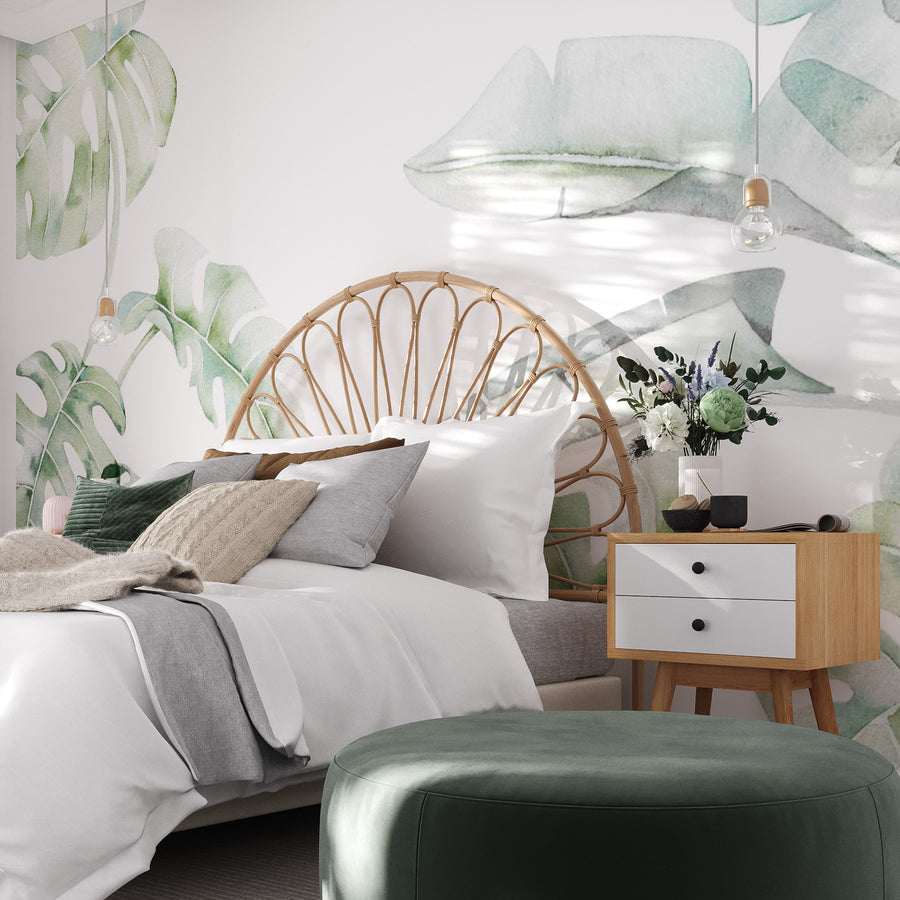 Featured: Garden Bloom Wallpaper
#9 Banana Garden, Wallpaper
Transform your home into a tropical paradise with our Banana Garden wallpaper. This stunning wallpaper showcases layers of lush banana leaves and rustic lines that create depth and texture, adding a touch of natural beauty to any room. With its calming and laid-back vibe, this wallpaper creates the perfect atmosphere for unwinding after a long day.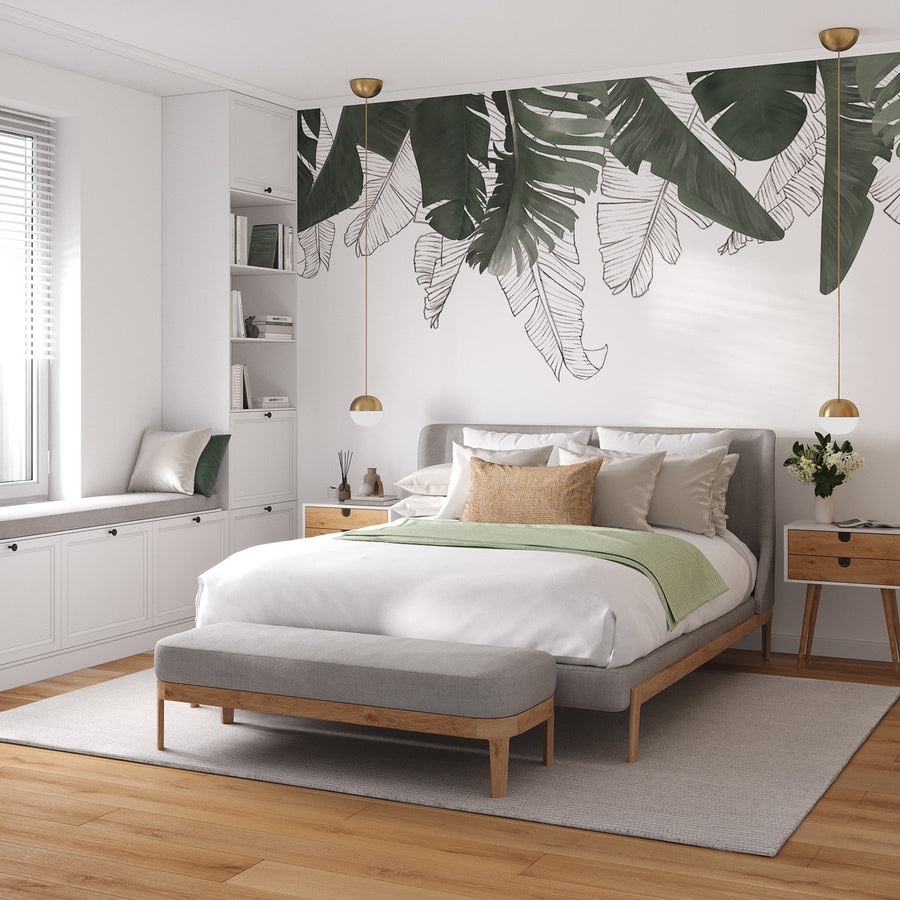 Featured: Banana Garden Wallpaper

#10 Animal Paradise, Wallpaper
Transport your kids to a realm of enchantment through the exquisitely crafted Animal Paradise wallpaper, adorned with jungle creatures and luxuriant trees. Tailored for young minds brimming with aesthetic summer wonder and an insatiable quest for adventure, this captivating design ignites their imagination like never before. 
Featured: Animal Paradise, Wallpaper
#11 Palm Garden, Wallpaper
This stunning wallpaper showcases a variety of palm designs in cool shades of grey and yellow, creating a breezy and refreshing atmosphere that's perfect for unwinding after a long day. With its timeless design and soothing colour palette, this wallpaper is sure to become a favourite in any space.
Featured: Palm Garden Wallpaper
#12 Boathouse Blues, Landscape Wallpaper
For those who adore the coast, this scene will feel wonderfully familiar—rows of boathouses nestled by the water's edge. Bathed in shades of blue, it captures the essence of aesthetic summer and exudes a modern, tranquil ambiance, making it an ideal addition to your space.
Pictured: Boathouse Blues, Landscape Wallpaper
#13 Classic Clematis, Wallpaper
Transform your home into a romantic and enchanting garden paradise with our Classic Clematis wallpaper. This stunning wallpaper depicts hand-painted flowers in a beautiful cascade, spilling over the side of a garden wall, creating a scene reminiscent of Sleeping Beauty's magical realm where time slips away. The delicate clematis flowers in soft shades of pink and purple add a touch of elegance and beauty to any room, perfect for creating a calming and relaxing atmosphere.

Featured: Classic Clematis Wallpaper
#14 Tropics Botanical, Wallpaper
Embrace the vibrant allure of tropical paradise with our exquisite tropical botanical wallpaper. Life-sized palm trees and lush banana leaves breathe new life into your space, infusing it with a fresh and invigorating ambiance. The vibrant tones of the foliage add warmth and depth to your interiors, while the intricate textures of the wallpaper lend a captivating touch to your walls. Immerse yourself in the serene and tranquil atmosphere created by this stunning botanical design, turning your space into a sanctuary of relaxation. Let the tropical beauty of our wallpaper transport you to a world of lush greenery and blissful serenity.
Featured: Tropics Botanical, Wallpaper
#15 Swaying Reed, Wallpaper
Immerse yourself in the captivating allure of aesthetic summer – a gentle ocean breeze delicately rustles the reeds. Infuse your space with the serene ambiance of the coast and sea at their finest. This wallpaper captures the essence of sunny days and ocean tranquility. Moreover, it offers versatility, with its sideways repeatable pattern, allowing it to enhance a single wall or multiple walls within your room.
Featured: Swaying Reed, Wallpaper
#16 London Houses, Wallpaper
Nestled in North West London, the charm of Notting Hill unfolds through its quaint townhouses. We've captured the essence of this iconic architecture, infusing it with the touch of aesthetic summer. Through a creative blend of 2D drawings meticulously arranged and transformed into captivating 3D photographs, we present our unique interpretation of these timeless structures.
Pictured: London Houses, Wallpaper
#17 May Meadow Floral, Wallpaper
The May Meadow Floral Wallpaper brings the beauty of a wildflower meadow into your home, inspired by tales of journeys and the longing for a place to call home. The pattern features a mix of colourful flowers that can be used throughout a room to create a fresh and lively atmosphere. Add a floral twist to any space, from living rooms to offices, with this versatile wallpaper design.
Featured: May Meadow Floral Wallpaper
#18 Strawberry Lane, Wallpaper
Transport yourself to a lush strawberry garden with our Strawberry Lane Wallpaper. Featuring a charming motif of greenery, flowers, and ripe strawberries against a calming ivory background, this wallpaper is the perfect addition to any home looking to infuse a touch of whimsy and natural beauty. With its Swedish summer-inspired design, you'll feel as if you've escaped to a tranquil hideaway every time you enter the room.
Featured: Strawberry Lane Wallpaper


#19 Garden Party, Wallpaper
Add a touch of charm and elegance to your home with our Garden Party wallpaper. This beautiful wallpaper features intricately drawn flowering foliage and adorable garden animals, set against a clean white background, creating a bright and cheerful atmosphere that's perfect for any room. Whether you're decorating a living room, bedroom, or even a home office, this wallpaper is versatile enough to pair with most furnishings and décor styles. With its whimsical design and classic charm, the Garden Party wallpaper is the perfect way to add a touch of natural beauty to your home décor.
Featured: Garden Party Wallpaper
#20 Bears and Bees, Animal Mural Wallpaper
Embark on an immersive journey into the captivating allure of aesthetic summer with our Bears and Bees Garden wallpaper. This enchanting design encapsulates the magnificence of nature in all its splendor. Amidst a lush green backdrop, endearing bears and buzzing bees come to life, infusing your space with an irresistible touch of whimsy and charm.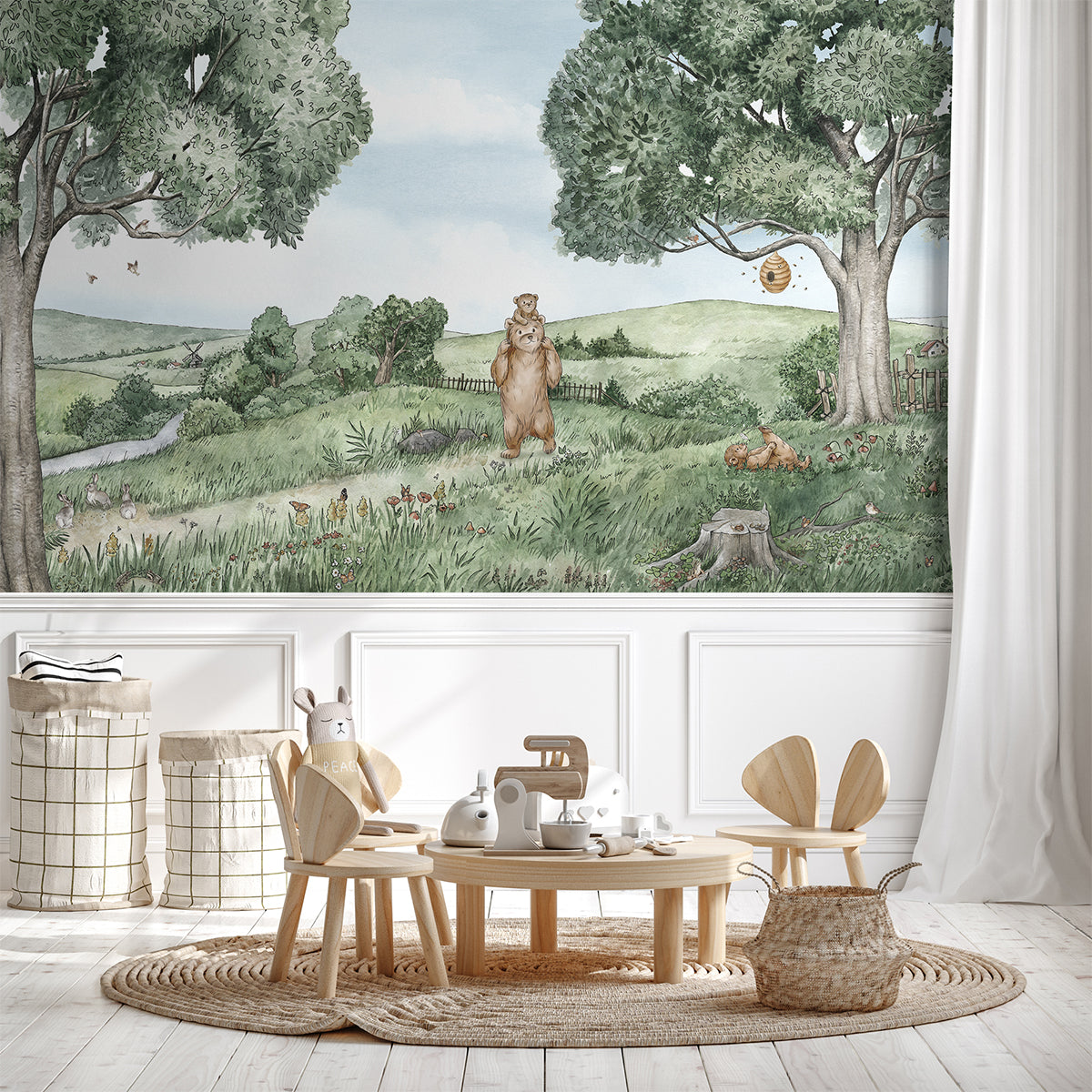 Pictured: Bears and Bees, Animal Mural Wallpaper
Embracing the charm of summer through wallpaper invites the outdoors into your home, allowing you to revel in the season's beauty all year round. From coastal serenity to tropical vibrancy, the possibilities are as diverse as the joys of summer itself. Let your choice of summer-inspired wallpaper reflect your personal style and create a haven that encapsulates the warmth, vibrancy, and relaxation that define this beloved season. As the sun sets and the stars emerge, your summer-infused interiors will continue to radiate the spirit of endless sunshine and carefree days.
Why choose Hello Circus' wallpapers?
We understand your wall comes in different shapes and sizes. Each wallpaper is therefore customised to the dimensions of your wall, making each wallpaper unique to your home. We also sell by per meter square (Height x Width x Unit Price) and not by rolls so that you only pay for what you need for your wall.
Check out our guide on how to measure your wall for wallpaper!
Benefits of our wallpapers
High Quality:

 Our wallpapers are printed on high quality non-woven paper in factories with the highest standards from 

Europe

. They are reinforced with nylon fibres to make the wallpaper stable and resilient.

Matte and non-reflective:

 Our non woven wallpapers are coated with soft and non-reflective matte finishing.

Safe and non-toxic:

 Our products are printed using stain resistant, VOC-free (Volatile Organic Compounds) inks on breathable, PVC (Polymerizing Vinyl Chloride) free paper. This ensures that your family and more importantly, your kids are not exposed to toxic chemicals which are usually present in traditional paint and wallpapers, all of which may have harmful health effects. 

Antimicrobial Protection
Wallpaper washability:

 All our wallpapers are washable, meaning that their surface is resistant to damage, and any domestic dirt or water stains can be wiped with a damp cloth or sponge.

Resistant to colour fading:

 Our production technology is designed to ensure optimum resistance to colour fading.

Fire resilient:

 Our wallpapers are fire rated in accordance with EN ISO 11925-2.
Read more about our wallpaper materials and check out our Ultimate Guide to Wallpapers for answers to the most commonly asked questions about wallpapers.
Interested to get our wallpaper?
For wallpaper quotation: Please click on "Get Quote/Buy" of the product page that you like and submit enquiry with wall dimensions. Check out our bestsellers wallpaper collection to get inspired! Installation is available as an add-on service for selected countries.
Feel free to contact us if you have are interested in the following:
Bulk orders

Corporate orders

Selling with us

Collaborations

Press features