Welcome to our Designer Spotlight series, where we shine a light on the talented individuals who transform houses into homes, spaces into sanctuaries, and interiors into works of art. Today, we are thrilled to introduce you to Muhammad Fazlee, an Interior Stylist and Designer whose passion for creating contrast in homes is nothing short of awe-inspiring.
Fazlee's guiding principle, "I don't just design, I create an experience," encapsulates his design philosophy. He believes in embarking on a design journey with his clients, handcrafting each project to reflect their unique lifestyle, preferences, and needs. From the softest of furnishings to the sturdiest of structures, every element in his designs is meticulously curated to strike the perfect balance between aesthetics and functionality.
Join us as we delve into Fazlee's world of design, where he shares his insights on the art of creating contrast in your home, offering tips and inspiration to elevate your living spaces to new heights!
Q: We love the way you marry different materials and textures into your projects! Could you share some tips on how to create contrast in a space?
Tip #1: Combine bold and subtle materials
Strive for a cohesive look that doesn't overwhelm. By combining bold and subtle materials - a raw surface against a finished one, a light colour against a dark one - helps to create an interesting yet balanced effect. Think raw concrete with polished marble, travetine with rattan or high-gloss acrylic with wood.
Tip #2: Try contrasting textures but with a similar tone
For those who love the all neutral look, you can layer pieces that have different materials and textures within the same colour palette. This approach creates depth and complexity without any eyesore, resulting in a harmonious, soothing aesthetic.
Tip #3: Form, but don't forget function
Materials and textures help to define space but one must also keep functionality and appropriateness in mind.
For example, a cosy bedroom needs materials and textures that are soft and plush as compared to an entertainment room that require materials that can be easily cleaned and maintained. High-traffic areas such as the kitchen would require durable materials that can withstand harsh conditions, not just aesthetically pleasing.
Tip #4: Experiment and refine
There is no right or wrong. It is all about experimentation and refining your choices over time. Use of different materials and textures can easily add depth and detail to any space, but it'll start to look like a mess having too much.
Start by anchoring the space with a dominant, statement piece - like an armchair, dining table or even a painting, - then build small pieces around it. 
Q: What are your considerations when choosing between using wallpapers or paint for your projects?
While both wallpapers and paint can make an immediate, significant impact in any space, I would first consider the PURPOSE of the space, ease of MAINTENANCE, while keeping in mind the BUDGET.
For rental properties, wallpaper can be a great, non-destructive alternative to pain and is easier to set up an interesting focal point within the space.
And with wallpapers, there are actually many ways you can use it. For example, instead of floor-to-ceiling, it can also be paired with panelling or wainscotting for a half-wall or even be used with a frame and hung on the wall like a painting. They can even be used as a backing for niches, open shelves and even wardrobes to lend a pleasant surprise of detail.
Q: What are your top 3 favourite wallpapers from Hello Circus and why?
Palm Paradise, Wallpaper
This wallpaper reminds me of Singapore where I could find these trees everywhere. I feel at home whenever I look at it. An iconic piece indeed.
Featured: Palm Paradise, Wallpaper
Mystical Garden, Wallpaper in Blue
This wallpaper is all about drama, it gives that extra oomph to any space. Definitely a showstopper in any room.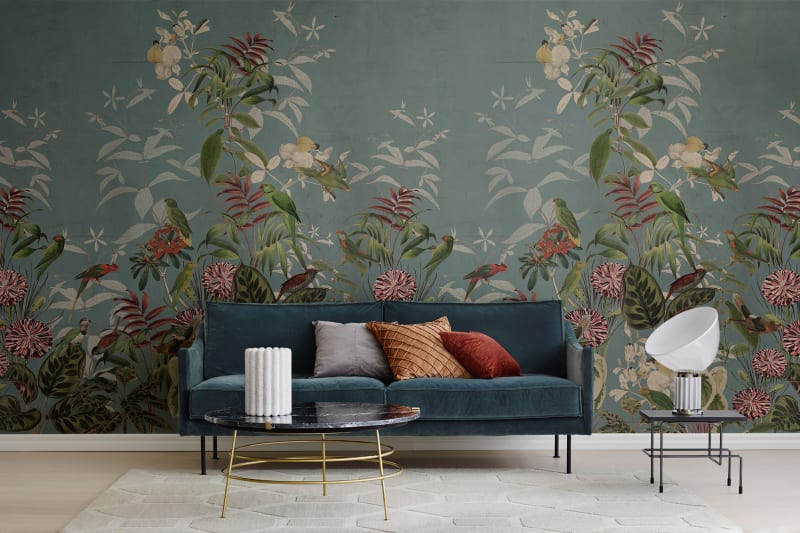 Featured: Mystical Gardens, Wallpaper
Laura, Striped Wallpaper
Striped wallpaper is a timeless design that is suitable for any room and almost any style.
Featured: Laura, Striped Wallpaper
As we wrap up our spotlight on Muhammad Fazlee and his unique approach to creating contrast in your home, we hope you've been inspired to embark on your own design journey.
Remember, contrast in your home can be achieved through a myriad of elements - colour, texture, scale, and more. It's about finding that delicate balance that adds depth, intrigue, and personality to your living spaces. So whether you're drawn to the boldness of contrasting colours or the subtlety of mixing textures, don't be afraid to experiment and make your home truly your own.
We hope you've enjoyed this designer spotlight and that it has sparked your creativity when it comes to designing your home. Stay tuned for more inspiring design stories and tips to transform your living spaces into extraordinary works of art!