Luxury wallpapers have long been synonymous with sophistication and opulence, but the idea of splurging on them might deter many homeowners. However, fear not! In this blog, we'll reveal the secrets to transforming your living spaces with luxurious wallpapers that won't drain your budget. Get ready to discover the art of creating a lavish interior without breaking the bank. But first, here are some tips when using wallpaper to revamp your space. Keep reading to find out more!
Exploring The Allure of Textures
Texture adds depth and dimension to your walls, instantly elevating the perceived value of your interior. Explore luxury wallpapers with embossed or 3D textures, metallic accents, or faux fabric finishes. These clever designs offer an affordable way to infuse your space with opulence.
Realistic Material Wallpaper
Why pay a fortune for expensive materials when you can get the look for less? Luxury wallpapers that mimic the appearance of marble, silk, leather, or wood offer a cost-effective solution to achieve the elegance of premium materials. Your guests won't believe their eyes!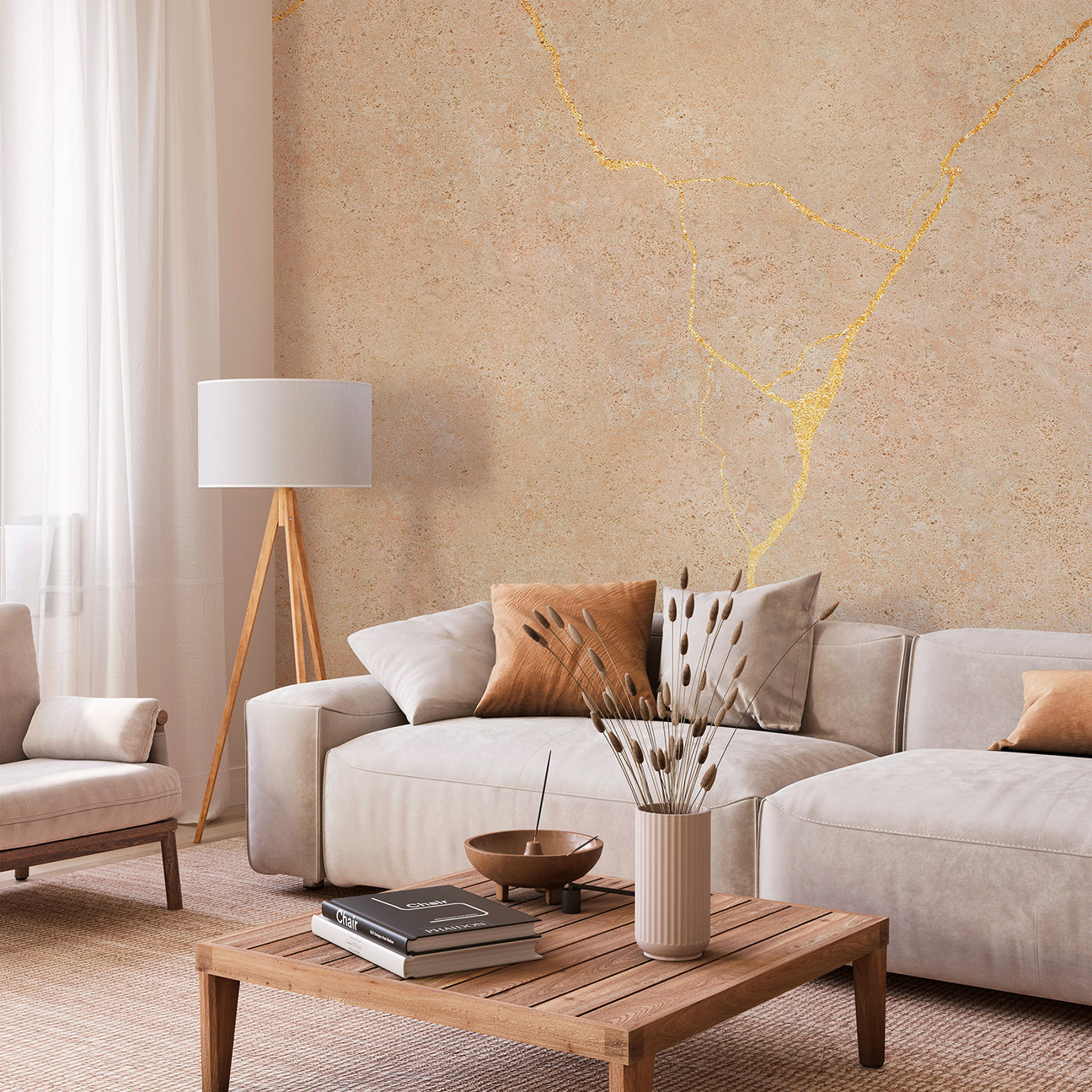 Statement Accent Walls
Focus on creating a luxurious impact in specific areas by choosing a statement wallpaper for an accent wall. This strategic approach allows you to indulge in high-end designs without covering all walls, making it a budget-friendly option that still wows.
Mix and Match Artistry
Embrace your inner artist by mixing and matching luxury wallpapers. Blend different patterns, textures, and colors to create a bespoke and personalized interior. This creative approach gives your space a unique touch that speaks to your individual style.
With a little creativity and planning, you can enjoy all the benefits of modern and luxury without breaking the bank. Wallpapers are definitely a great way to incorporate texture and patterns at an affordable price. Here are some luxury wallpaper designs which we think will complement the luxury interior style.
Luxury wallpaper #1: Heather Fern Wallpaper
Embrace the luxurious soothing beauty of nature with the Heather Fern wallpaper. Inspired by delicate fern leaves, this design infuses your HDB home with a sense of calm and tranquility, creating the perfect backdrop for a luxurious and peaceful living space.
To achieve a cohesive look, consider pairing this exquisite wallpaper with furniture crafted from natural materials such as light-toned wood or wicker. Soft, plush textiles in earthy hues will further enhance the organic feel, adding to the overall sense of luxury.
Featured: Heather Fern Wallpaper
Luxury wallpaper #2: Opulent Marble
Looking to add a touch of luxury to your home? This unique design features a hand-drawn gold pattern on top of marble, creating a truly luxurious look. perfect for making any room feel more opulent and grand. Whether you use it in your living room, bedroom, or even your bathroom, the Opulent Marble wallpaper is sure to make a statement.
Featured image: Opulent Marble Wallpaper
Luxury wallpaper #3: Noble Marble
Indulge in opulent elegance with the Noble Marble wallpaper, featuring exquisite swirling marble prints in luxurious soft grey tones. This stunning design is guaranteed to elevate the ambiance of any room, bringing an air of sophistication and refinement to your home. Prepare to be captivated as this lavish wallpaper transforms your space into a realm of pure luxury and timeless beauty.
Featured image: Noble Marble Wallpaper
Check out our full range of marble wallpapers!
Luxury wallpaper #4: Kintsuguroi Japanese, Wallpaper
Immerse yourself in the luxurious allure of the Kintsugi philosophy with this exquisite design, crafted using our exclusive metallic gold substrate. The glistening joint lines, reminiscent of the ancient art of Kintsugi, emanate a radiant shimmer as they catch the light.
Behold the mesmerizing dance of these beautiful gold lines, revealing their ever-changing brilliance as the sunlight shifts throughout the day. Embrace the natural elegance of this design, where each passing moment unveils a new facet of its opulent charm.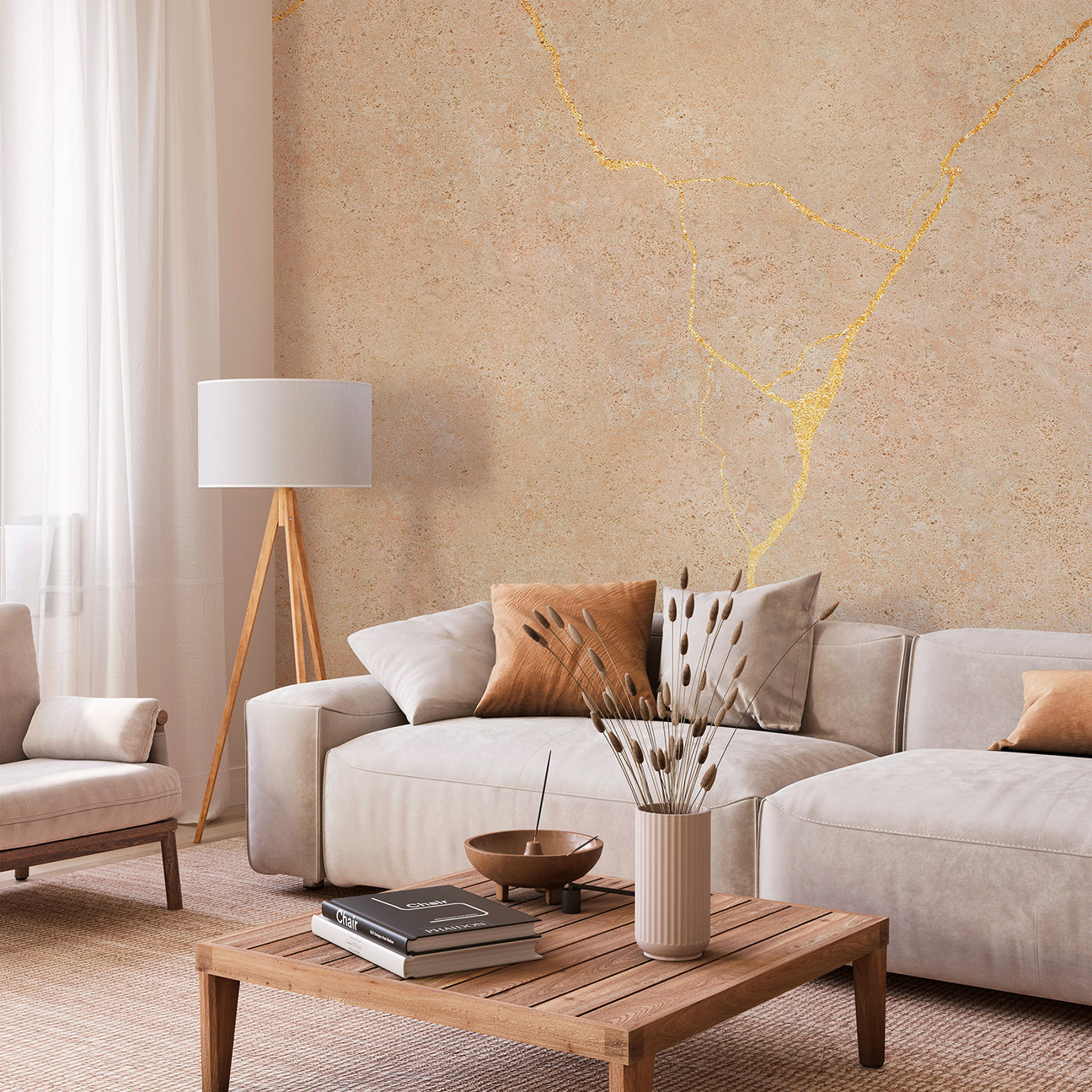 Pictured: Kintsuguroi Japanese, Wallpaper
If you have a penchant for Japanese-inspired interior style, check out our collection of aesthetic Japanese wallpaper designs.
Luxury wallpaper #5: Le Montparnasse
Our Le Montparnasse Wallpaper is definitely a head turner with its distinctive gold and white watercolour strokes. Printed on metallic texture, this wallpaper showcases a smooth blending of pink, white and gold tones, which adds a touch of luxury to any room.
Featured image: Le Montparnasse Wallpaper
Luxury wallpaper #6: Brush
Chalk paint wallpaper is the perfect way to bring a touch of luxury to your home. With its modern yet soothing style, our Brush wallpaper is perfect for creating an expressive backdrop in any room. The rich greige base and confident brushstrokes create a look that is both modern and luxurious.
To complement this bold wallpaper, opt for sleek and modern furniture with clean silhouettes. Neutral colours, like shades of grey or cream, will balance the vibrancy of the wallpaper while allowing it to take center stage. Add pops of colour through accent pieces such as throw pillows or art pieces that echo the hues of the brushstrokes.
Featured image: Brush wallpaper in light blue
Luxury wallpaper #7: Addison Chalk
Create a visual textured look for your interiors with our chalky wallpaper. The rustic nature of this wallpaper will surely make any room feel elegant and put-together without being overly-dramatic.
Featured image: Addison Chalk Wallpaper in Sand
Check out our guide on "Ombre wallpaper ideas and why everyone loving this style"!
Luxury wallpaper #8: Shiplap
Looking for something a little different in your wallpaper? Our Shiplap wallpaper is perfect for creating a modern, luxurious look in your home. Its tongue groove design is a classic, timeless and versatile piece that can add interest and charm to any room.
Featured image: Shiplap Wallpaper in White
No matter what your personal style may be, striped wallpaper is a timeless design that can easily be incorporated into any space. Check out our full collection of striped wallpaper designs.
Luxury wallpaper #9: Terrazzo Blanc
Our Terrazzo Blanc wallpaper mural gives your walls that posh and lush appearance. With its white and nude colours, our terrazzo wallpaper mural best matches light-toned home décor and furnishings.
This wall mural makes an excellent finishing touch for your living rooms, dining rooms, bedrooms or office and stairways.
Featured image: Terrazzo Blanc Wallpaper
Luxury wallpaper #10: Opulent Beauty
This wallpaper has a unique hand-drawn gold pattern, which adds the touch of grandeur and opulence to your living spaces. Available in Nude, Dark Blue and Dark Green.
Featured: Opulent Beauty Wallpaper
Luxury wallpaper #11: Saltwater Blooms Wallpaper
Imagine bringing the serene beauty of a coastal paradise into your HDB home. The Saltwater Blooms wallpaper from Hello Circus captures the essence of a tranquil seaside retreat. Its soft pastel hues and delicate floral motifs create a sense of tranquility and sophistication, making it a perfect choice for a luxury interior.
To complement this wallpaper, opt for sleek and contemporary furniture pieces in neutral shades, such as light greys or whites. Add accents of natural materials like rattan or driftwood to infuse a touch of organic elegance into your space. Minimalist lighting fixtures, such as pendant lamps with frosted glass shades, can further enhance the modern and luxurious ambience.

Featured: Saltwater Blooms Wallpaper 
Luxury wallpaper #12: Garden Eden Wallpaper
If you're a nature lover seeking a touch of enchantment, the Garden Eden wallpaper is the perfect choice. This captivating design features lush foliage and vibrant blooms, transforming your HDB home into a tropical oasis. The rich greens and pops of colour will bring life and energy to your interiors.
To amplify the luxury factor, pair this wallpaper with plush velvet furniture in jewel tones like emerald green or deep sapphire blue. Introduce metallic accents through decorative elements such as brass table lamps or gold-framed mirrors. Natural light streaming through sheer curtains will add an ethereal glow, completing the magical ambiance.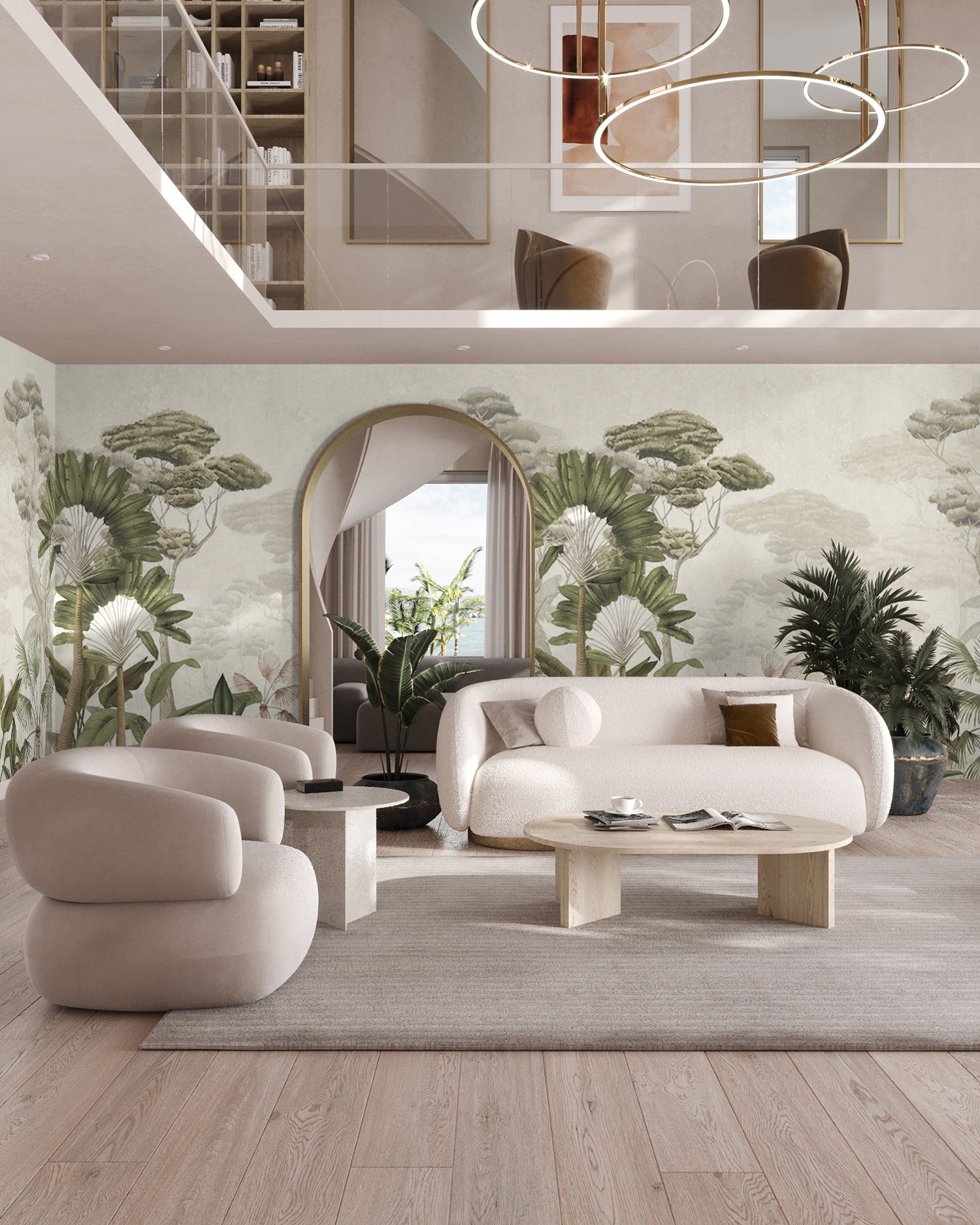 Luxury wallpaper #13: Confetti Speckles Wallpaper
If you desire a modern and playful touch in your luxury interior, the Confetti Speckles wallpaper will captivate your senses. Its whimsical yet refined design, reminiscent of confetti dancing in the air, adds a joyful and celebratory atmosphere to your HDB home.
To maintain a sophisticated look, pair this wallpaper with contemporary furniture featuring clean lines and neutral colours. Consider adding statement pieces like a vibrant geometric rug or an abstract art piece that echoes the confetti theme. Opt for sleek and minimalistic lighting fixtures, such as pendant lights with exposed bulbs, to enhance the modern aesthetic.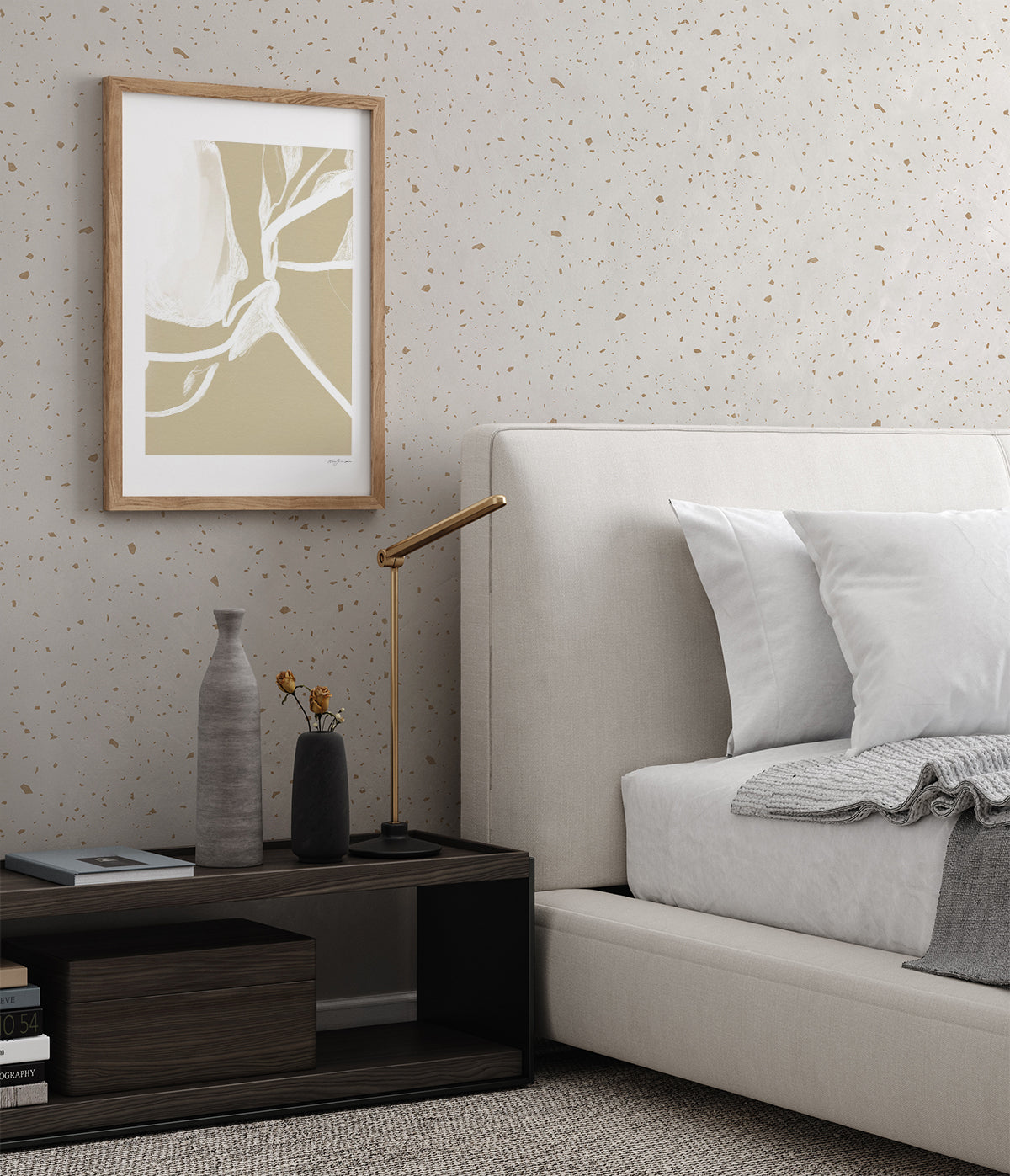 Featured: Confetti Speckles Wallpaper
Luxury wallpaper #14: Marble Art
Bring a touch of luxury to your home with our Marble Art wallpaper. This classic grey marble print wallpaper is perfect for adding a touch of glamour to any room. With its timeless design, our Marble Art wallpaper will never go out of style.
Featured image: Marble Art Wallpaper
Luxury wallpaper #15: Erin Stone Foliage
Looking for something special to add that touch of luxury to your home? Our Erin Foliages Wallpaper is perfect for creating a modern, glamorous look. Featuring an oversized pattern of foliages on a visual stone texture background, the wallpaper creates an amazing rustic stone & cement effect interior, and goes well with modern luxe decor as seen in the image below.
Featured image: Erin Stone Foliage Wallpaper
Luxury wallpaper #16: Big Diamond Marble, Geometric Wallpaper
This marble wallpaper design is a twist from the usual featuring a curated white, black and blue marble designs. It will help you achieve the luxurious marble look in your home while keeping things affordable. Great for those looking for an elegant, minimal and sophisticated wallpaper.
Pictured: Big Diamond Marble, Geometric Wallpaper
Pictured: Big Diamond Marble, Geometric Wallpaper
Transforming your home with luxury wallpapers is an art that doesn't have to break the bank. By selecting timeless designs, exploring textures, and embracing realistic imitations, you can create a lavish and inviting space without a hefty price tag. With statement accent walls and your creative flair, your dream of a luxurious home is well within reach. So, go ahead and revamp your space with the allure of luxury wallpapers, turning your home into a haven of elegance and style, all while keeping your budget intact. Happy decorating!

Why choose Hello Circus' wallpapers?
We understand your wall comes in different shapes and sizes. Each wallpaper is therefore customised to the dimensions of your wall, making each wallpaper unique to your home. We also sell by per meter square (Height x Width x Unit Price) and not by rolls so that you only pay for what you need for your wall.
Check out our guide on how to measure your wall for wallpaper!
Benefits of our wallpapers
High Quality:

 Our wallpapers are printed on high quality non-woven paper in factories with the highest standards from 

Europe

. They are reinforced with nylon fibres to make the wallpaper stable and resilient.

Matte and non-reflective:

 Our non woven wallpapers are coated with soft and non-reflective matte finishing.

Safe and non-toxic:

 Our products are printed using stain resistant, VOC-free (Volatile Organic Compounds) inks on breathable, PVC (Polymerizing Vinyl Chloride) free paper. This ensures that your family and more importantly, your kids are not exposed to toxic chemicals which are usually present in traditional paint and wallpapers, all of which may have harmful health effects. 

Antimicrobial Protection
Wallpaper washability:

 All our wallpapers are washable, meaning that their surface is resistant to damage, and any domestic dirt or water stains can be wiped with a damp cloth or sponge.

Resistant to colour fading:

 Our production technology is designed to ensure optimum resistance to colour fading.

Fire resilient:

 Our wallpapers are fire rated in accordance with EN ISO 11925-2.
Read more about our wallpaper materials and check out our Ultimate Guide to Wallpapers for answers to the most commonly asked questions about wallpapers.
Interested in getting our wallpaper?
For wallpaper quotation: Please click on "Get Quote/Buy" of the product page that you like and submit enquiry with wall dimensions. Check out our bestsellers wallpaper collection to get inspired! Installation is available as an add-on service for selected countries.
Feel free to contact us if you have are interested in the following:
Bulk orders

Corporate orders

Selling with us

Collaborations

Press features